Risk Intelligence Use Cases
News content and data insights as informed risk signals
Country risk

Track country risk events with international and local coverage translated to English.

Emerging risk

Identify known and emerging risk with horizon scanning capabilities.

Reputational risk

Identify and track events that may pose a threat to your organizatision's reputation.

Third-party risk

Understand how your supplier base is percieved and portrayed in the media.
AI-powered Risk Intelligence
Global coverage from trusted sources
Risk Intelligence has relied on subjective and siloed individual human experience for too long. Our comprehensive coverage of trusted content enables organizations to easily monitor global stories and events, and catch long-tail coverage risks and opportunities with a variety of content types, languages, and geographical regions.
Real-time ingestion from over 80,000 trusted sources
Global coverage from more than 200 countries
Full analysis and translation support for up to 5 languages (Spanish, French, German, Portuguese and Chinese)
AI-powered content tagging and search
Keyword-based searches are often inaccurate and inefficient, returning masses of irrelevant news to sort through. Our NLP engine opens up a whole new world of efficiency and accuracy by adding 26 data points to every news article, which can be combined as search criteria and filters to proactively identify and monitor the events that matter to you.

Entity, category, and topical tags and search
Article and entity-level sentiment analysis
Extensive metadata extraction, including source, location, timestamp and more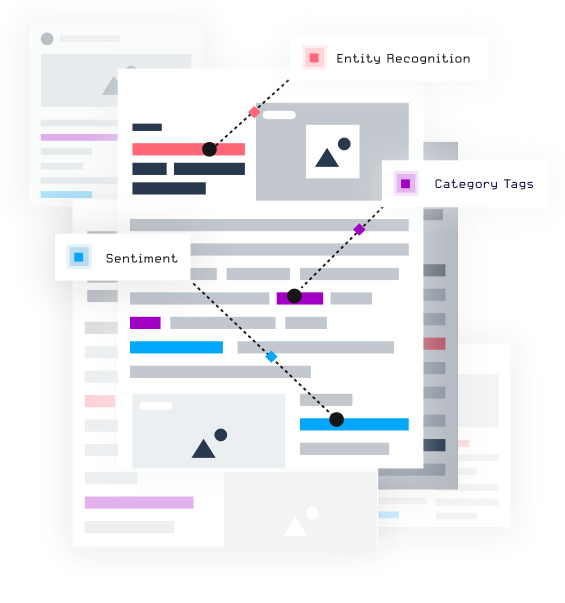 Detect events and investigate their impact
Detecting events in a risk monitoring process is crucial, but to fully understand your risk landscape, you need to be able to investigate events as they unfold. Our analysis capabilities make this easy, helping to build visualizations and models so you can take action to prevent or mitigate risks through news.

Event detection with real-time clustering
Time series and trend analysis
Structured data output for advanced analytics and model building
Out of the box content pipeline - no scraping required
Building complex scraping, ingestion, and delivery pipelines requires significant upfront investment and ongoing maintenance costs. Ensure your engineers concentrate on what they do best by leveraging our end-to-end pipeline which removes the complex and cumbersome build and maintenance work associated with content analysis pipelines.
Automated article parsing and deduplication
Scalable end-to-end ingestion pipeline
Easy integration with robust SDKs and extensive documentation
End-to-end News Intelligence Platform
80,000+ trusted multilingual sources

26 searchable NLP enrichments per article

Simplified analysis features for spotting patterns and trends

Seamless integration and robust SDKS