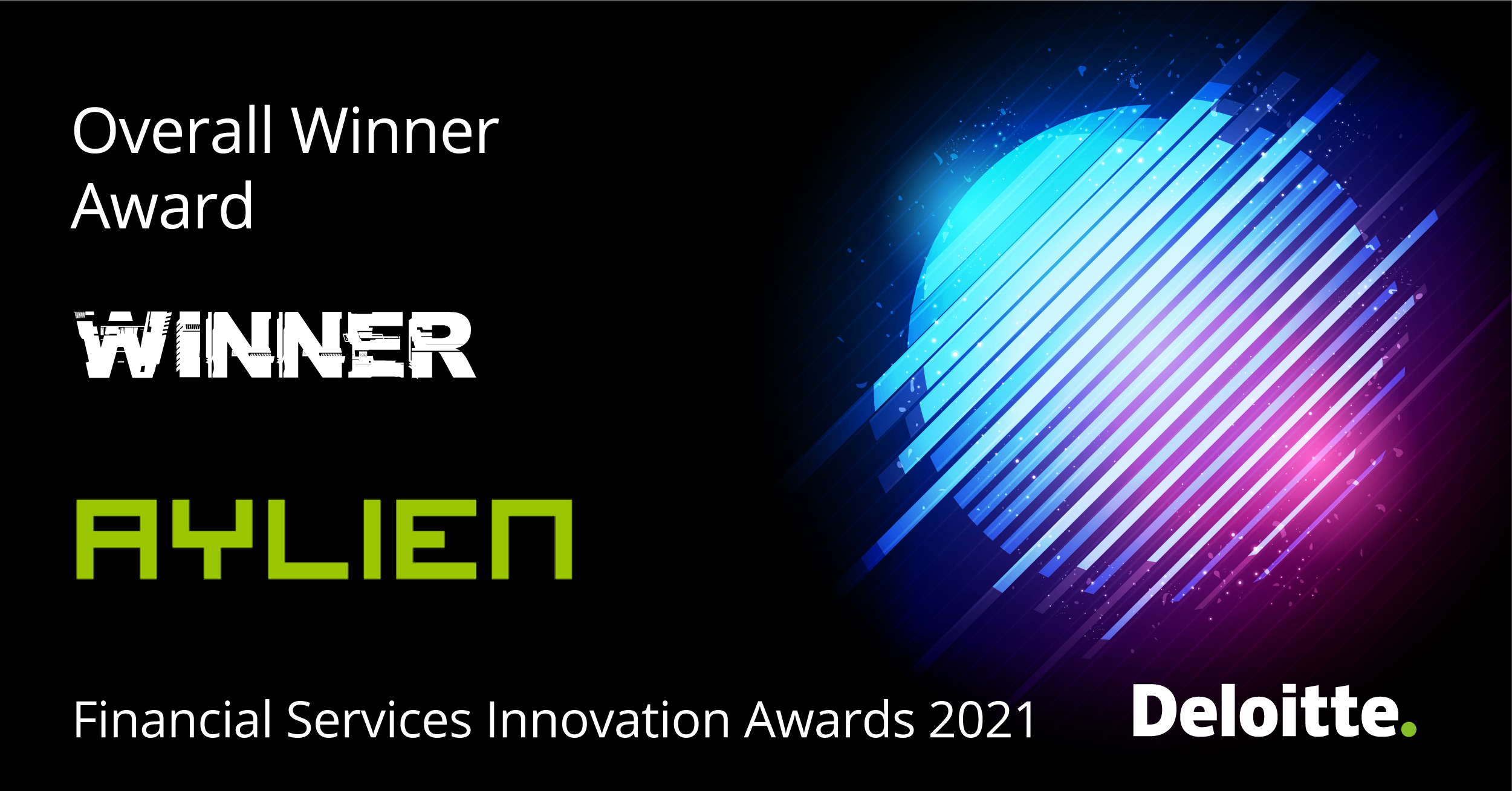 We're extremely proud to say that AYLIEN has been announced as the Overall Winner of the Deloitte Financial Services Innovation Awards 2021, and also collected the Most Disruptive Fintech title!
The award, presented by Deloitte in partnership with Financial Services Ireland (FSI) and the Banking and Payments Federation Ireland (BPFI), is given to the organisation which best "uses technology to disrupt a well-established part of financial services, gaining a competitive edge with a product, process or approach – or a combination of all three – that solves a longstanding problem for the industry, or addresses a niche segment in a new way, or improves internal operations for financial services providers."
AYLIEN has developed RADAR — an innovative and disruptive new solution that transforms how analysts in financial services are able to identify and monitor potential known and unknown risk events at a global scale via an intuitive UI. We have a rich history of developing innovative technology, with AYLIEN News API providing easy access to vast amounts of structured news data for technical users. Now we have focused our expertise on enabling non-technical analyst users to access AI-powered real-time news feeds through RADAR's UI.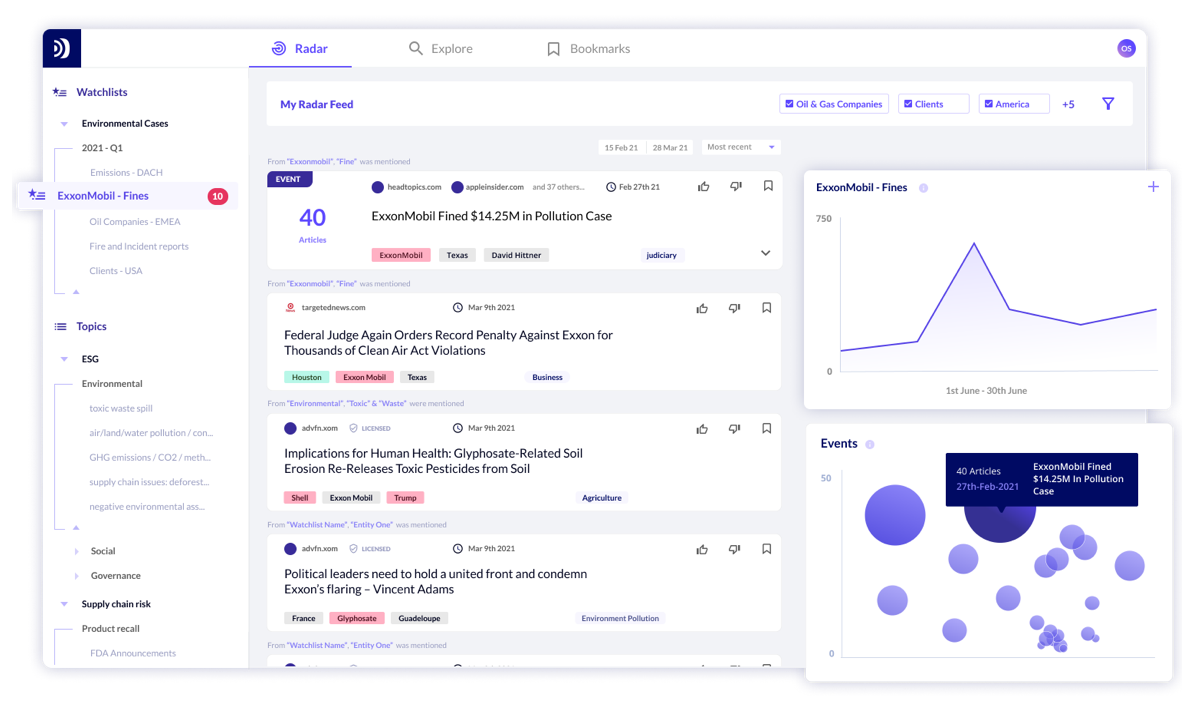 For far too long risk identification and monitoring processes have been ad-hoc, optimized for compliance alone, and have been reliant on highly ineffective manual identification and investigation workflows, which has undoubtedly contributed to the more than $36bn in fines and losses accumulated by financial services companies since 2008.
RADAR enables a better way, using proprietary cutting-edge Natural Language Processing (NLP) technology to aggregate and understand vast quantities of unstructured data such as news, regulatory updates, company filings, and internal data sources which provide early warning signals of critical risk events related to a company's customers, supply chains, competition, and investment strategies.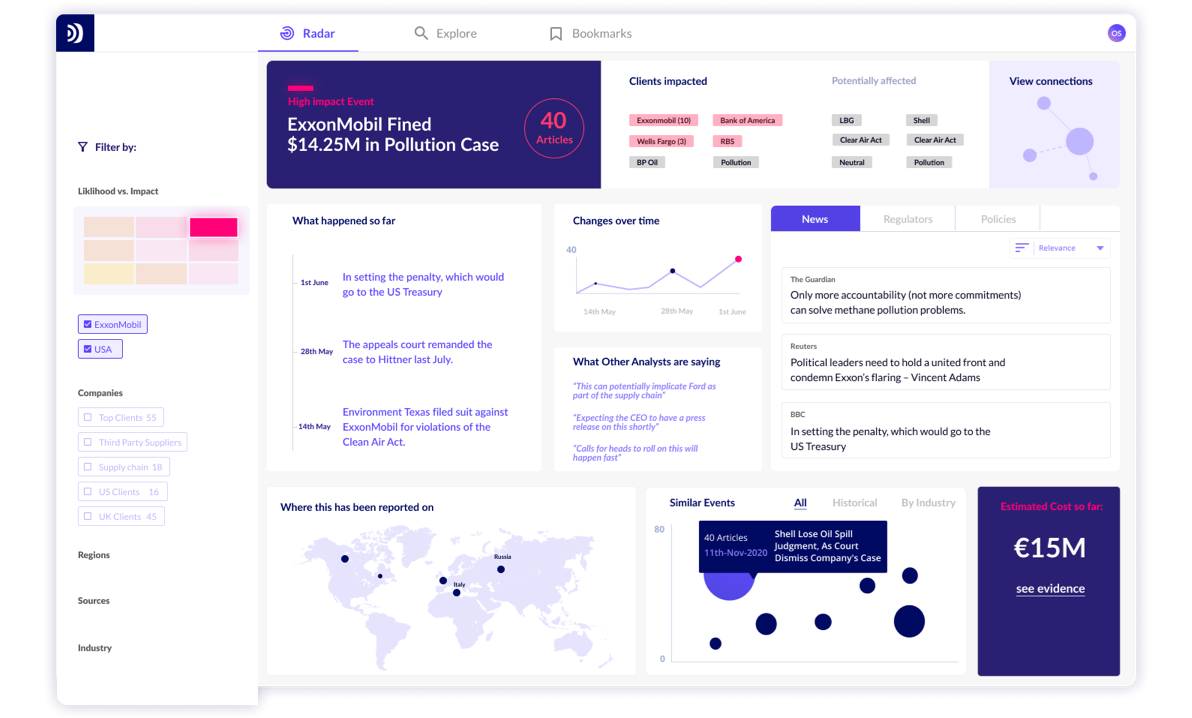 Trainable AI-powered search and discovery capabilities empower risk analysts to expand their monitoring reach and transform ineffective manual identification and investigation workflows. Early adopters have benefitted by improving operational effectiveness (discovering 10x more potential risk events), and increasing operational efficiency (reducing the time taken to investigate and verify risk events by up to 70%).
Join our beta program now to start discovering more risk events straight away.
Stay Informed
From time to time, we would like to contact you about our products and services via email.