AI-powered News Intelligence Platform
Harnessing the business insight hidden in news content requires an army of engineers and data scientists. Our end-to-end pipeline aggregates, understands and delivers the world's news as clean ingestible structured data feeds.
The News Intelligence pipeline
Aggregate
Comprehensive multilingual coverage
We source and ingest content from tens of thousands of global sources within minutes of an article being published.
Public and licensed sources

80,000 trusted mainstream and long-tail news sources.

Multilingual Content

Ingestion and translation for content in 5 languages

Global news

Regional coverage from over 200 countries.
Filter
Intelligent processing, tagging, and enrichment
Our research powered NLP models understand and tag thousands of articles every minute.
NLP-enrichment

Including: entity, category, and topical tagging.

Event clustering

Event detection and article deduplication.

Sentiment analysis

Industry leading sentiment analysis at document and entity level.
Integrate
Flexible and scalable delivery methods
Enhance your news powered applications, processes, and models with enriched and structured news feeds and insights.
Adaptable to your needs

Flexible API and scalable rate limits.

Get started now

Use Search UI to get up and running in minutes.

Stay alert

Keep informed with custom webhooks and push notifications.
Integrate With Ease
Easy to use REST API with structured JSON output
Build news powered applications, models, and processes with easy access to news content and data, without the need for complex scrapers or custom pipelines.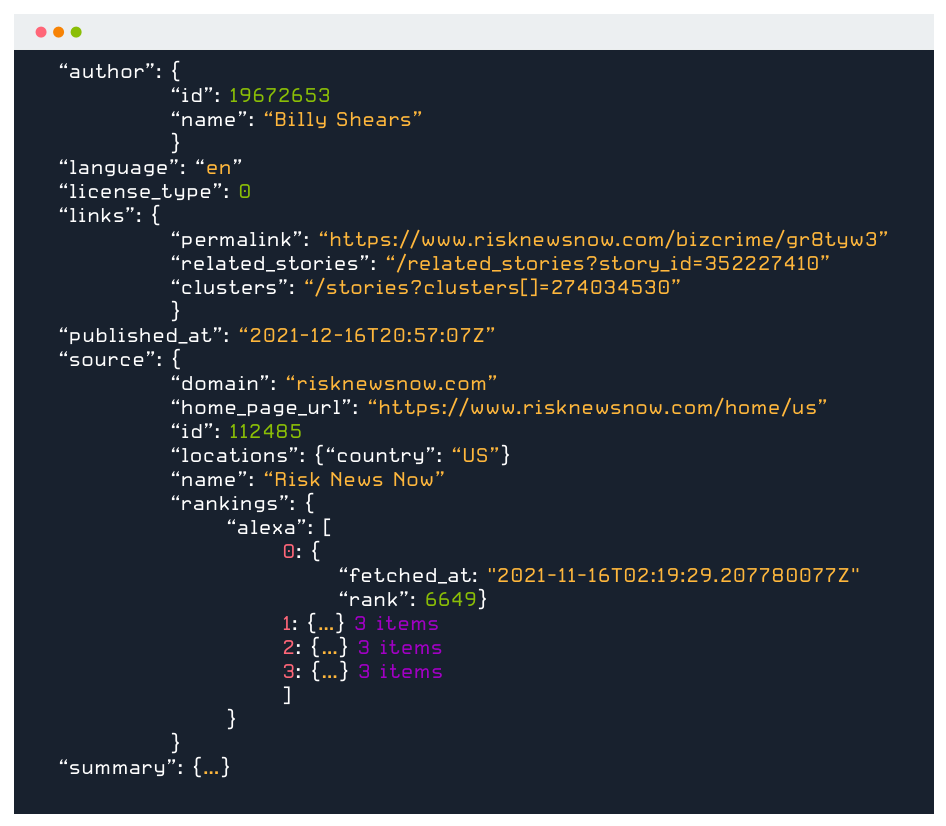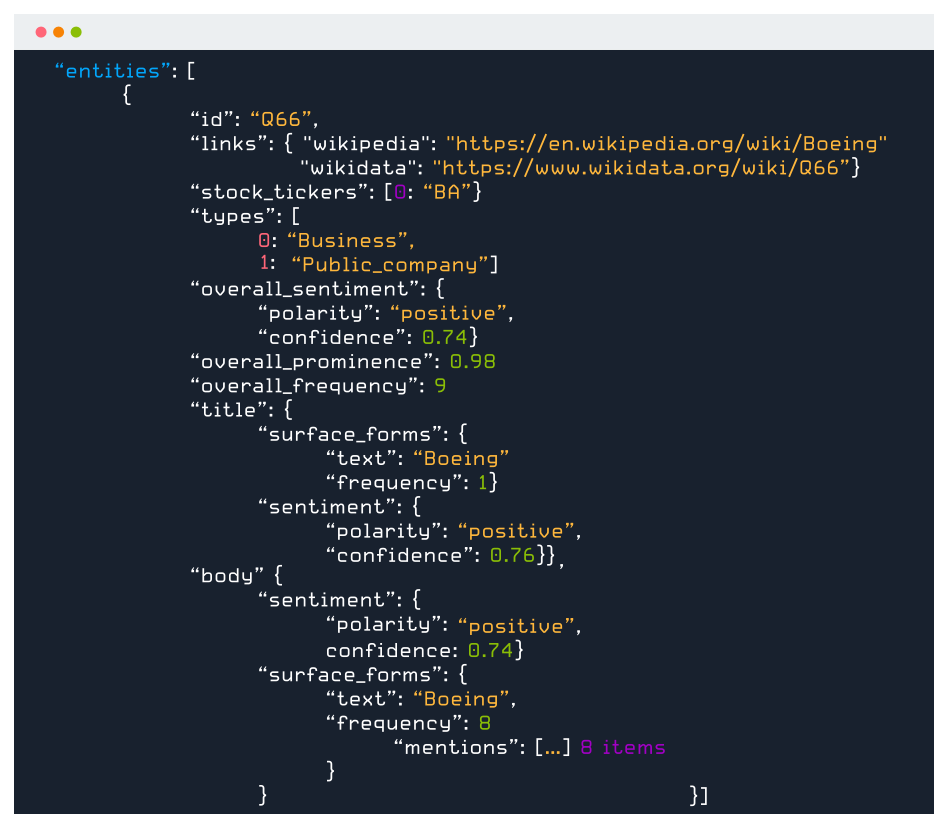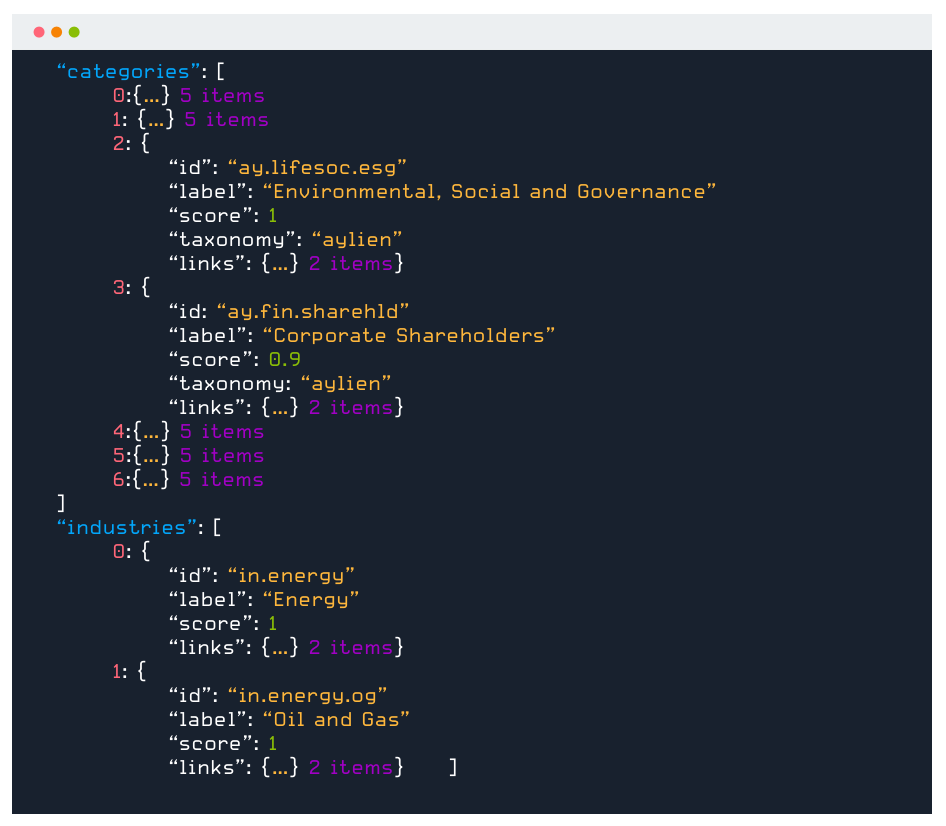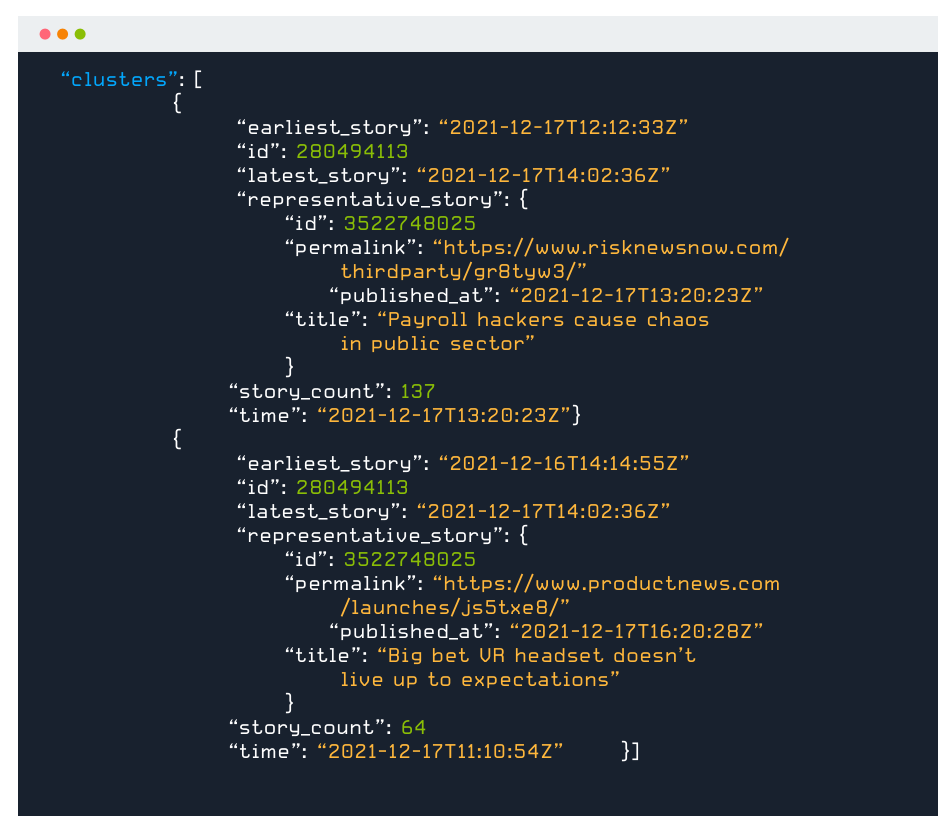 Source Filtering

Filter results by source attributes such as location, language, author, and popularity.

Entity-Based Search

Accurately find mentions of organizations, brands, people, and locations.

Category and Industry Search

High-precision categorization supports 3,000+ multi-tiered topics and over 1,500 industry tags.

Search by Event

Our SOTA clustering and deduplication models identify emerging events relative to your search.
Extensive Search and Analysis Capabilities
26 unique filters and searchable tags along with advanced analytics functions that provide enhanced search and analysis
Global Coverage

Multilingual search and analysis capabilities

Entity Extraction

Support for 5M+ known entities

Sentiment Analysis

Article and entity-level sentiment analysis

Event detection

Deduplication and real-time clustering capabilities

Topic Tagging

Topical tagging for more than 4,000 known categories

Advanced Analytics

Time series and trend analysis

Metadata Extraction

Extensive source and author metadata

No scraping

Real-time content processing and article parsing