If you subscribe to our regular blog updates you may have come across an article we published titled "What to look for in a News API". We published this article to try to highlight some key points of reference for would-be News API users that we believe should be top of mind when evaluating News API providers.
This blog goes one step further providing a deep dive into one of our longtime competitors, Webhose, paying particular attention to their basic News API and recent Enriched News API products. In this blog, we're hoping to highlight some key points for comparison that we've compiled through conversations with prospective and active News API customers who may have moved from or evaluated the Webhose data solutions.
Why choose AYLIEN News API?
1. Best NLP technology on the market
AYLIEN was founded by natural language processing (NLP) experts, and as a result NLP has been core to our products from the outset. Our research and science teams are constantly advancing the state-of-the-art in deep learning-based NLP research. This ensures our customers have access to cutting-edge technology brought to the fore in our advanced NLP enrichment and search features.
With 26 metadata and NLP enrichments added to every single article, we offer the most expansive search capabilities among alternative News API providers. These include state-of-the-art entity recognition features, industry-standard taxonomy categorization, and multilingual search in up to 14 languages and translated content for 5 languages using our proprietary in-house translation pipeline.
Furthermore, AYLIEN News API is an easy to use, relentlessly maintained, meticulously documented, one-size-fits-all API, rather than an assemblage of ad hoc APIs.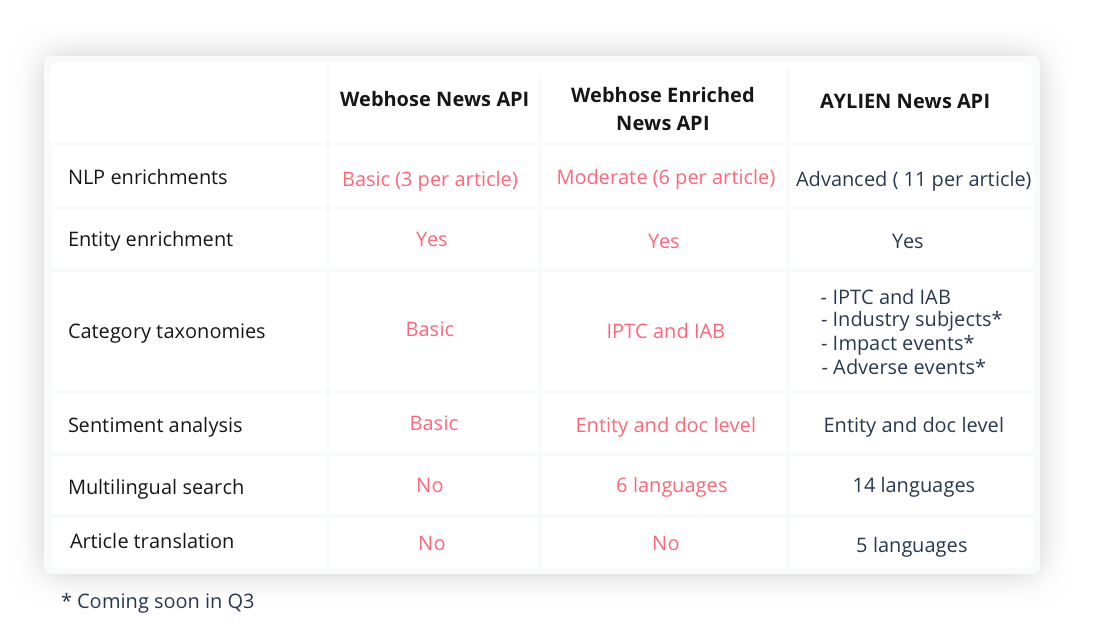 AYLIEN are known for their NLP expertise, and their capabilities as a nimble organization means they are a lot more flexible than legacy providers in the news intelligence space.

Maya Gal

Co-Founder at OKAPI AI
2. Breadth of NLP enriched content coverage
Following a recent News API feature release, we increased our source coverage by more than 400% across 200 countries. We now collect and analyze approximately 1.4 million articles every day from 80,000+ sources, and we offer web, licensed, and premium content packages based on your specific needs.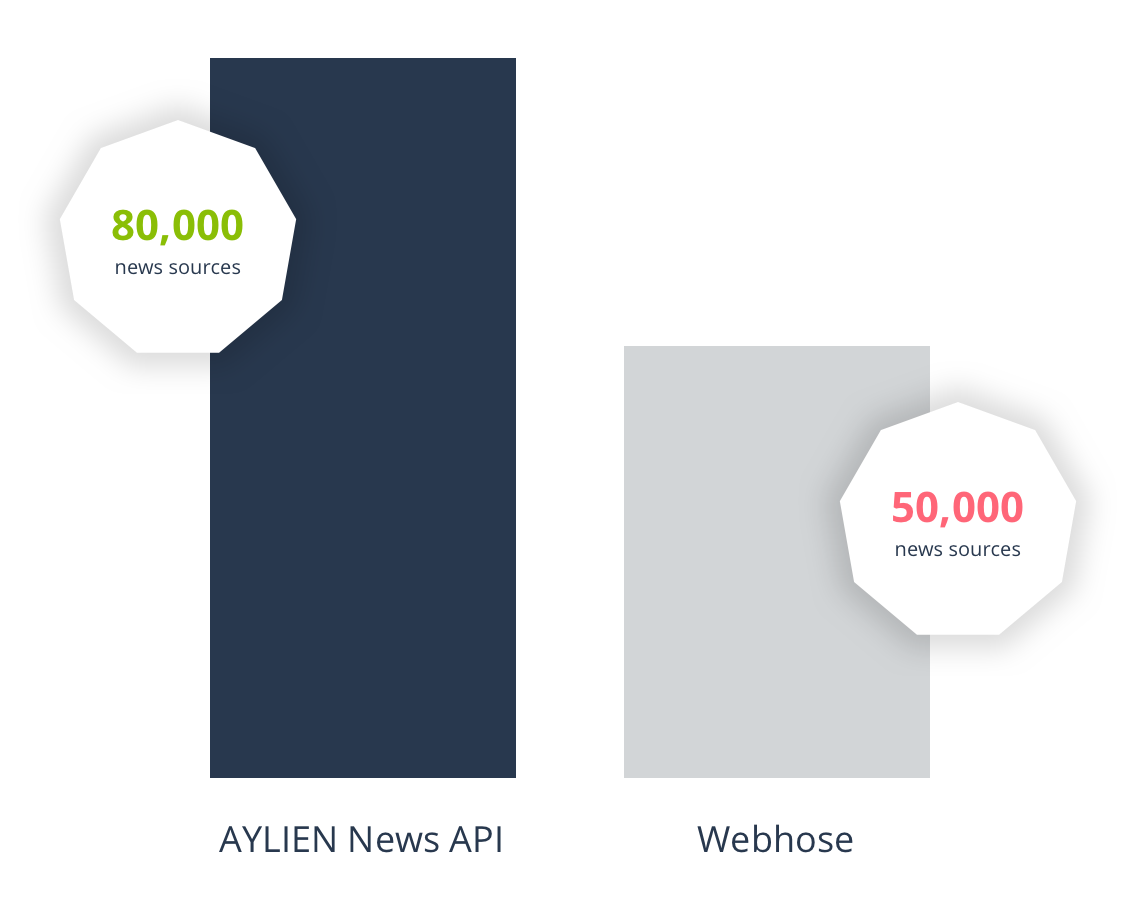 AYLIEN News API offers access to a significantly larger number of news sources than Webhose, which only provides access to approximately 50,000 news sources. This doesn't come close to demonstrating the discrepancy between the two APIs, however. AYLIEN News API provides access to NLP-enriched historical news data going back over 6 years, whereas Webhose Enriched News API limits this to just 30 days.
Finally a head-to-head comparison of AYLIEN News API and Webhose Enriched News API over a 30 day period discovered that AYLIEN provides access to over 10x the volume of enriched news articles.

3. Less noise, and more of the news you want
A particular theme that consistently raises its head on competitive sales calls is that Webhose's basic News API is too noisy, i.e. queries return articles that are irrelevant. This is unsurprising due to the vast number of websites that Webhose crawls everyday. Although it's an impressive amount of data, finding relevant and actionable data amongst the noise is arguably of more importance. Out of the 1 million websites that Webhose crawl, only 50,000 are news sources. Webhose's News API product only provides basic NLP enrichments, and as a result finding what matters to your business can be time consuming and cumbersome.
At AYLIEN, we're committed to providing the right balance between quantity and quality, which is why we are focused on delivering only trusted news sources (80,000+) which are easily searchable thanks to our mature metadata and NLP enrichments. AYLIEN News API also strips out ads and other additional content, like embedded social sharing features for example, that creates noise and distorts data quality.
4. Real-Time Clustering: Event detection, topic discovery, and deduplication
AYLIEN News API is the only technology to offer Real-Time Clustering: an automatic topic and event discovery algorithm that groups similar articles together in clusters to provide a 50,000-foot view of the world's news landscape.
Having the in-depth understanding of each article thanks to NLP enrichment means that AYLIEN can effectively group articles that cover the same event or topic together in real-time, regardless of the time of publication, source, or even the language articles are written in.
The ability to segment and group the world's news at a topic or event level enables our users to greatly improve the efficiency and accuracy of their applications and processes through event detection workflows, automatic topic discovery, and deduplication of news stories.

5. Advanced analytics endpoints (time series/trends)
We also offer a range of collective analysis endpoints that allow you to uncover insights and build effective data visualizations.
Time Series allows you to track changes in quantitative values contained in stories over time. This information can be anything from mentions of a topic or entities, sentiment about a topic, or the volume of stories published by a source, for example.
Trends allow you to identify the most frequent mentions of categorical attributes contained in stories, e.g. most frequent entities, concepts, or keywords.
Histograms lets you retrieve a snapshot of any quantitative attribute of articles that match your query.

Stay Informed
From time to time, we would like to contact you about our products and services via email.