The sheer volume of news published every day makes the human act of collecting, reading, and analyzing global news inefficient, ineffective, and inaccurate. Thankfully this process can now be augmented by using a News API to leverage the capabilities of AI-powered News Intelligence. It significantly reduces the time and manpower needed to stay on top of global events, and derive insight from news, to make better-informed decisions.
But once you've realized the need for a News API, you have to make sure that you're purchasing the right one for you. There will be a number of key decisions to make as part of your decision and we've listed what our customers have found to be the most important in the following blog.
Throughout this article we are going to focus on the following questions you need to consider in your buying process.
What type of content do you need access to?
Which is more important: quantity or quality of content?
How broad of a content reach do you need?
Are you augmenting an existing analyst process or looking to use data as part of a model?
How important are flexible filtering and search capabilities?
Is the solution scalable and reliable enough to meet your needs?
We've taken a look at 3 core areas of focus for high performing News Intelligence solutions with some bonus consideration points that any News API buyer needs to consider.
Content Aggregation
Global coverage
This nearly goes without saying: if you're looking for a News API, then of course you are looking for news content. But content comes in many different varieties. Quantity of sources is important, and you need to have broad coverage to make sure you don't miss any mentions or events that could be crucial. On the other hand, too many sources can lead to an overwhelming amount of noise that distracts from the news that matters. Which brings us to quality...
Coverage you can trust
There's the old data science adage, 'garbage in, garbage out', which rings true with news as much as any data. Most organizations will want the balance of having a wide range of trusted content, both mainstream and long-tail, that doesn't contain unreliable or irrelevant sources. Anything other than this sweet spot is going to make your job a whole lot more difficult as you battle with thousands of irrelevant articles that waste your time, or even worse, damage the integrity and accuracy of your models and business decisions.
Multilingual coverage
Truly global coverage needs to aggregate news sources from multiple languages. There's a problem though — can you read all those languages? Can anyone in your team? That's why a solution that automatically translates news articles into English is so important. Sure you could pay for Google Translate to do it for you, but that is a cost that very quickly gets scarily expensive.

With AYLIEN News API, our content coverage includes:
c.80,000 content sources
c.1.2 million news articles every day
> 200 countries and territories covered
Machine translation into English for Spanish, French, German, Chinese, and Portuguese (8 more languages available in Beta).
Understanding
Beyond content - News Intelligence
Having comprehensive content coverage is a necessity, but you can easily find yourself overwhelmed by a relentless torrent of news articles. Thankfully the days of manually collecting, reading, and filing news articles are a distant memory, but more recent news monitoring methods have been far from perfect. Huge amounts of manual processing has been required to read and analyze the news that matters, resulting in inefficiency, missed events and mentions, and inaccurate data. In short, you need a solution that is more than simply a content provider.
An intelligent News API solves this problem for you, by essentially 'reading' every article it ingests so you don't have to. Furthermore, advanced NLP technology adds structure to millions of unstructured news articles, saving countless hours of manual data processing by automating the process. And by extracting detailed metadata, and tagging entities and categories for easier search capabilities, you can find exactly the news that matters to you in seconds. In other words, say goodbye to the complex Boolean queries that take months to perfect and even longer to maintain.
Take the following example where we distil the thousands of articles returned by the keyword search for 'apple', compared to the entity search specifically for the company Apple, and narrowed further with a category filter, and showing only negative sentiment. The reduction in articles to return only those most relevant to you will save you hours in the discovery and investigation process.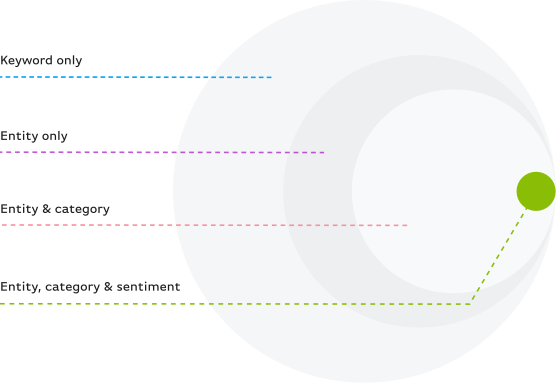 Analysis/Investigation
If you're looking at a News API that is purely a content provider, or only offers basic NLP, then you'll be missing out on valuable analysis and investigation features such as Event Clustering. This feature groups articles by their similarity so you can augment event discovery processes, and deduplicates articles that are too similar so that there is less noise to get through.
Further discovery, analysis, and investigation can be carried out through Trends and Timeseries. Trends is a great tool to identify the most frequently mentioned keywords, entities, and categories that you are interested in, and even discover ones that you didn't know you should be interested in. Timeseries allows you to track the volume of stories over a set period of time, which can easily be turned into a visualization, helping you to easily see spikes and dips in volume, and identify impactful events. Only AYLIEN provides this advanced feature in our News API.
With AYLIEN News API our NLP enrichments include:
26 data enrichments for every article
5.6 million entities recognized, and 41,000 entity types
Entity tagging that outperforms our nearest competitor by more than 65% for correctly identified entities
Entity-level and document-level sentiment analysis
Categorization
More detailed and significantly higher quantity metadata extraction
Real-time Event Clustering
Timeseries and Trends
Delivery
Scalability
How often have you bought the cheap version of something only to regret it when it falls apart after a few weeks? You wouldn't want that to happen to a vital component in your organization's workflow just to save a bit of money, would you? When choosing a News API, you have to be sure it can scale to the volume you will be using it now, and in the future. Has the vendor had experience working with companies of your size and usage expectations? AYLIEN recently increased the number of articles processed daily to c.1.2 million, with real-time NLP enrichment for each article. As a result, we're trusted by global enterprises to provide their news needs.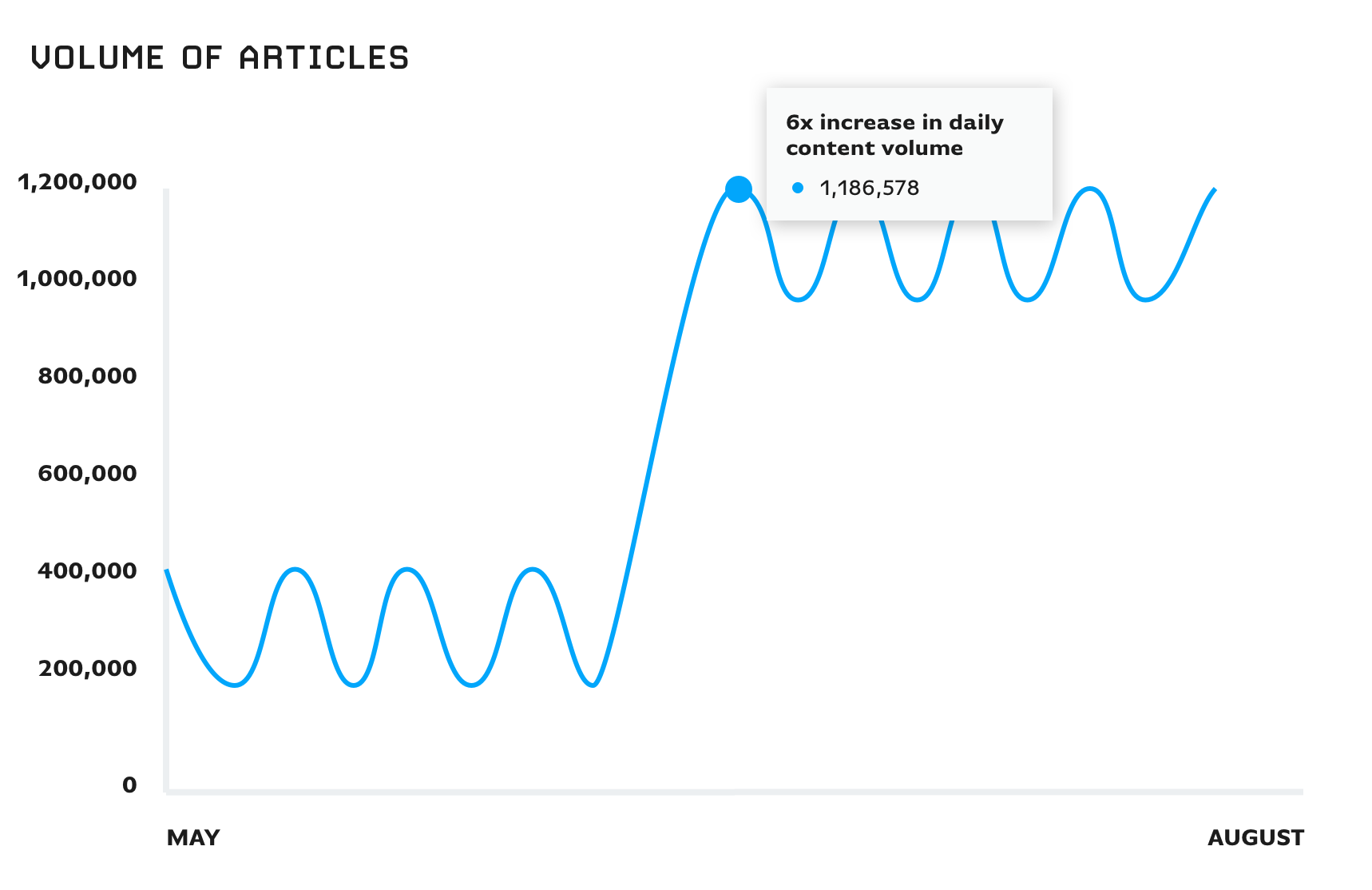 Time to value
It can be tempting to think that you can build an equivalent product internally for less money, which will suit your needs exactly. Sure, go ahead and try it. The truth is, building and maintaining scrapers and negotiating licenses is going to take you months, let alone adding any NLP functionality. With AYLIEN, all you have to do is sign up and get started. We've got SDKs in 4 languages and documentation that guides you through every step of the way. Why waste months building something inferior, when you can reap the benefits of AYLIEN's News API straight away?
With AYLIEN News API you can:
Deliver real-time news data to apps, dashboards, models, and algorithms
The world's news converted into clean, structured, usable JSON
Just sign up and get started straight away
Be in safe hands with a research-led NLP-first solution
Other things to consider
Service
Organizations place their trust in third-party software, incorporating many of them into their day-to-day workflows. If something goes wrong, it can be incredibly disruptive if the problem is not solved quickly. Unfortunately, many vendors are all too happy to put huge effort into selling you their product, but next to none to make sure that you get the value they promised.
If you've heard that a particular vendor takes days or weeks to respond to your support request, let alone fix it, then it's clearly not a good sign. Be sure to ask peers and seek reviews, as well as asking all potential vendors about their customer support. A company like AYLIEN, which is young, hungry, and eager to help, is likely to provide the service and support that more established companies just don't have the desire to do.
Innovation
The pace of technological change rattles along. It's not good enough for your provider to sit on their laurels and feel like they're doing enough the way it is. Often the big name players start off as innovative, but as headcount grows and employee turnover inevitably increases, the innovation dies, and the product creaks on, plastering over the gaps and cracks with expensive acquisitions that they leave to stagnate.
When true innovation comes along, it can leave the established competition light years behind, relying on their incumbent position and marketing budget to try and make up for the gulf in vision. At AYLIEN, we're proud of our research-led NLP technology, which we feel gives us that innovative edge over the Goliaths. Take a look at some of our recent research papers that our talented Research team have published.
Transparency
It's all too easy to sign up for a service, integrate it into your workflow, and then be hit with hidden costs left, right, and center when you start to ramp up your usage. Rate limits, extra seats, extra licenses for customers, article translation — they all add up pretty quickly, which can be unsustainable in the long run.
As a customer, you should expect nothing less than absolute transparency from the vendor you choose to supply your News API needs (and indeed any of your SaaS requirements). AYLIEN outlines all costs up front, providing flexible rate limits and packages that suit your usage so that there won't be any surprises down the road.
Try Before you Buy
If a company isn't letting you try before you buy, be warned, they're probably trying to hide something from you. We're proud of News API, and are more than happy to let anybody try it out, free of charge. We've nothing to hide. Why don't you try it for yourself? Here's a quick guide on how to get up and running with News API in no time.
Sign up for a free trial of AYLIEN's News API here.
Stay Informed
From time to time, we would like to contact you about our products and services via email.