Intro to Product Recall
Product recall occurs when a company produces materials with defects due to error or negligence that could have some negative impact on a consumer. The fallout of not performing a product recall could be disastrous, ranging from risk of legal action, fines and even the death of consumers. That said, successfully performing product recall can also have a negative impact on a company, damaging company reputation and brand sentiment or disrupting supply chain.
Media monitoring can be utilised to constantly monitor the news for signals of product recall in order to decisively react to disruption of supply chain, prompt action amongst retailers or monitor brand sentiment in reaction to a product recall event. But due to the volume and incessant nature of news– not to mention the modern global economy– it is not practical to track all news manually. Thankfully, news intelligence provides an automated, ever-vigilant solution.
Monitoring Product Recall With News Intelligence
We were interested in scanning worldwide news to identify the biggest product recall events of the last two months using AYLIEN's News API. To do this, we utilised a combination of AYLIEN's NLP enrichments and machine learning to identify the relevant news.
News Categorization
AYLIEN's NLP enrichment process classifies news stories into categories such as business, economics and finance, crime, politics, sport, entertainment and many others. In fact, we use two news taxonomies to help our users isolate the news types that really matter to them - IPTC and IAB QAG. Here, we used the IPTC taxonomy to search for all news stories classified as "Product Recall".
News Clustering
This returned over 50,000 stories, far too many to manually review. In order to reduce noise we selected the top thousand stories ranked according to Alexa ranking- a measure of site popularity- and then identified the news clusters to which they belong.
By its nature, news tends to repeat itself; multiple news stories will exist that report the same or similar topics. Utilizing clustering enables us to deduplicate and summarise the news.
We then visualized these news clusters, allowing us to quickly identify the major events. Hover over the clusters to see a representative article title for each.
Product Recall
Major News Events Sept - Oct 2020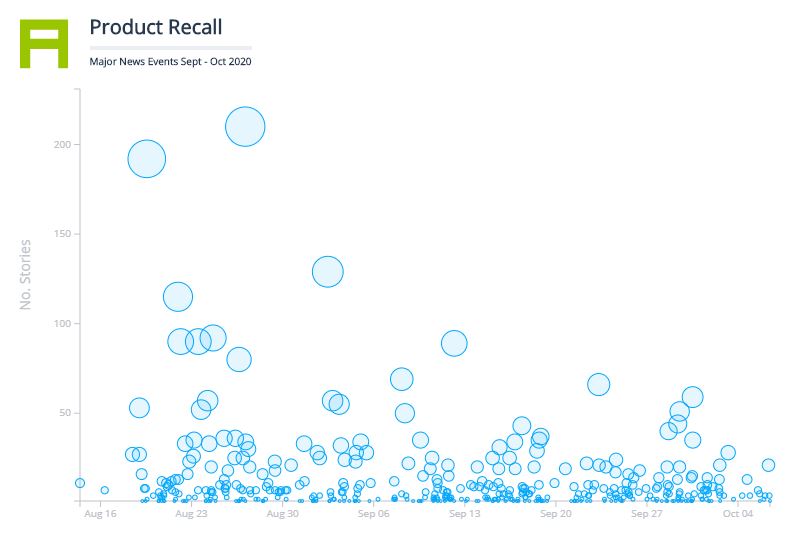 Major Product Recall Events
Honda agreed to pay an $85 million settlement for its use of problematic airbags. Due to the risk of explosion when these airbags are used, Honda and other major automakers have recalled tens of millions of vehicles for this issue in the past 20 years, one that has led to the deaths of at least 17 people.
Honda distanced themselves from the fiasco stating: "The now-bankrupt airbag inflator supplier, Takata, pleaded guilty in 2017 to federal criminal fraud charges for deceiving Honda and other automakers about the safety of its airbags. Under the terms of these civil settlements, Honda does not acknowledge any wrongdoing."
Their actions seem to have been effective in protecting the company's standing as the announcement of the settlement has had no major impact on their share price.
Elsewhere in the motor industry, Hyundai and Kia recalled 180,000 models due to fire hazards.
While not strictly a product recall story, the Swiss town of Olten experienced "chocolate rain" when a nearby Lindt factory experienced a cooling ventilation system malfunction. While no products were recalled, Lindt & Spruengli has publicly acknowledged the issue and offered to pay for any necessary cleaning.
The US Food and Drug Administration has warned that hand sanitizer is being packaged like "kids' candy". Companies have been accused of using packaging and scents that have enticed some children to eat the hand sanitizer, prompting companies such as SmartCare to recall the product.
Elsewhere, two major food recalls have occurred. In the first instance, fresh fruit giant Wawona recalled certain bagged peaches because of links to an ongoing Salmonella outbreak, impacting retailers Target, Aldi and Wegmans, while Oberto Snacks recalled smoked sausage products due to misbranding and an undeclared allergen.
Conclusion
This simple proof of concept has shown how news intelligence can be used to monitor the news landscape for product recall signals. Using machine learning processes such as clustering, we can distill information and make it infinitely more digestible to a human reader, saving countless man hours of trawling through documents and amending searches.
Check out our blog on Horizon Scanning where we discuss how businesses can utilise News Intelligence to proactively monitor risk events such as product recall or click here to learn more about media monitoring with AYLIEN.
Stay Informed
From time to time, we would like to contact you about our products and services via email.