Building the perfect News API query can be difficult, for both newbies and the most seasoned developers alike. Even with the best technical documentation to guide you, it can be complicated and time consuming to build, test, and iterate queries. But it's an incredibly important thing to get right, because if your queries are sub-par, your results will be too.
AYLIEN understands this, which is why we've been working hard to improve the user experience. This brings us to the latest release for News API, which we are really excited to share. It delivers a better experience by improving usability and performance in a number of ways, freeing up time for other high value work, and increasing the efficacy of queries.
One significant aspect of this release is the introduction of Search UI, which is by far the fastest and easiest way to build News API queries. Another part of this release is focused on improving performance of query results, so we are also providing access for all users to Smart Tagger and Clustering, which provide the best ways of finding the news that matters for your organization.
Let's take a closer look at this release:
Search UI: A no-code interface to build your API queries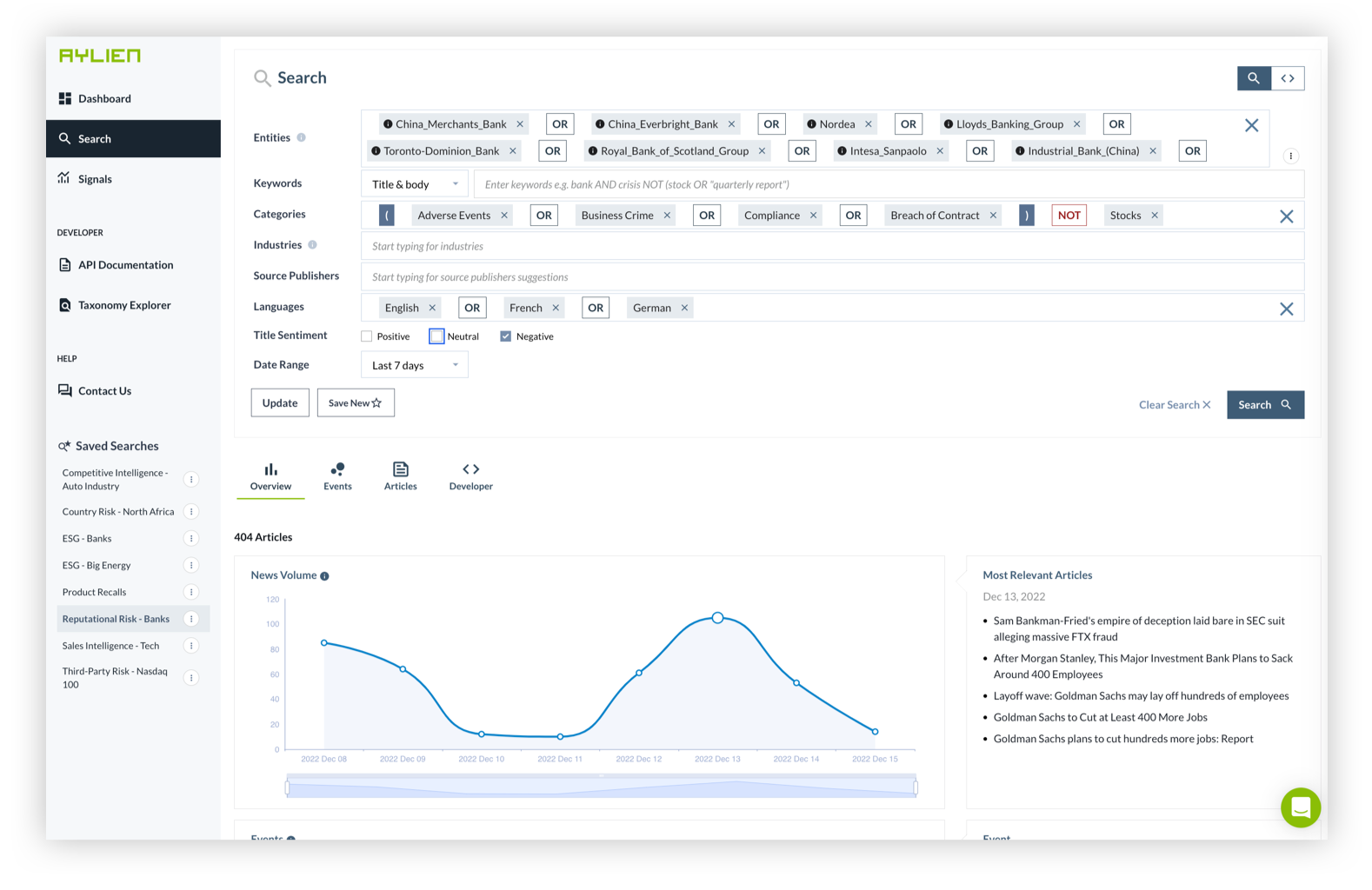 Search UI provides the fastest and easiest way for you to build, test, and iterate powerful queries. You can create a query in seconds, by simply adding parameters to search fields. Query results are then immediately displayed across a variety of useful data visualizations (time series, trend analyses, event clusters to name a few), speeding up the time to insight. Search UI also gives easy access to all relevant news articles, which can be viewed in their entirety.
Once you've built your query and are happy with the results, it's really easy to start hitting the API directly, as we expose the query for you to copy and use in your chosen environment. This is a really useful feature to help connect Search UI to your API workflow.
Try it for yourself now! To help you get started, here's a short introduction video.
Smart Tagger: High precision news tagging and search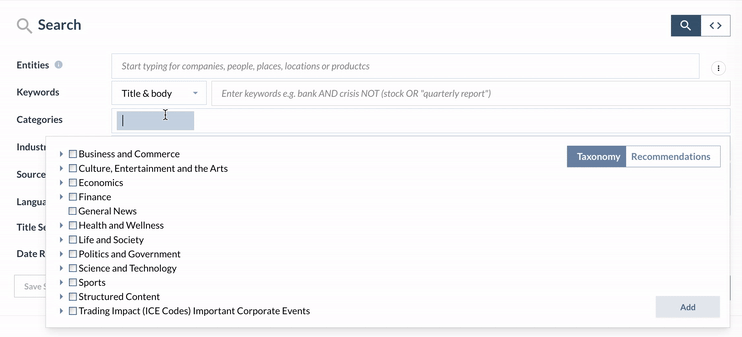 Included in the release of Search UI is our flagship classification model, Smart Tagger, which becomes part of our base product offering. This means that everyone will now be able to take advantage of AYLIEN's cutting-edge Smart Tagger taxonomies, which include 3,000+ category tags, and 1,500+ industry tags, which significantly improve the accuracy and precision of your queries. Try it now in Search UI, or read more about it here.
Clustering: Event detection and deduplication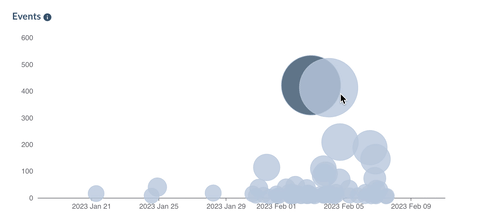 Clustering has also become part of AYLIEN's base product offering. It works by grouping together articles based on how similar they are. In Search UI event clusters are shown in a bubble graph, making event detection a lot easier. Clusters also make it easier to carry out event deep-dives, as all articles can be viewed in full, so no stones are left unturned. You can read more about Clustering here.

If you're new to AYLIEN News API, sign up for our 14 day free trial (no credit card required) and start searching for relevant news straight away. It's never been easier thanks to Search UI.
Stay Informed
From time to time, we would like to contact you about our products and services via email.