At Quantexa News Intelligence we are constantly striving to create the best possible product for our customers. We recently launched Search UI, which provides the fastest and easiest way to build, test, and iterate sophisticated queries, as well as the ability to instantly investigate results through advanced data visualizations. Now we're excited to build on this foundation with another release that focuses on delivering an even better Quantexa News API app experience.
So what does this release consist of?
Improved user experience: We've made the Quantexa News API app experience better, with a beautiful new welcome page/dashboard and clearer navigation tailored for your usage.
New investigation feature: Our latest feature, Inspect Panel, helps you to investigate segments of a query more effectively and efficiently
Improved Entity search capabilities: We've brought our Enhanced Entities feature from News API into Radar, and introduced a new way to add entities.
Improved user experience
If you need to find relevant news for your organization, Quantexa has you covered, across a diverse range of use cases and implementations. Whether you're a developer looking for high quality news data to train models and power apps, or a non-technical user such as an analyst who needs to proactively monitor relevant topics in the news. Our latest release caters to this range of users, tailoring the user experience to fit the use case, so that you have the tools that you require to find the news matters.
We've introduced a new welcome page, with everything you need to get started quickly so that you can experience the value faster, whether you are a News API or Radar user. We've also slightly altered the information architecture of the app to improve navigation immediately, as well as future proof it for some incredibly exciting products that we'll be releasing this year. Oh, and the new design looks really good too! Check out the gif below of the different welcome pages for News API and Radar users.
We have also introduced the ability to view article feeds in either a collapsed or expanded view, which are easy to toggle between. The expanded article feed view displays the article title and publisher along with an article summary and associated Entities, to provide high context in a limited space. The collapsed article view provides a simplified feed of the article title and publisher only. The result is a faster way to scan article titles for news of interest.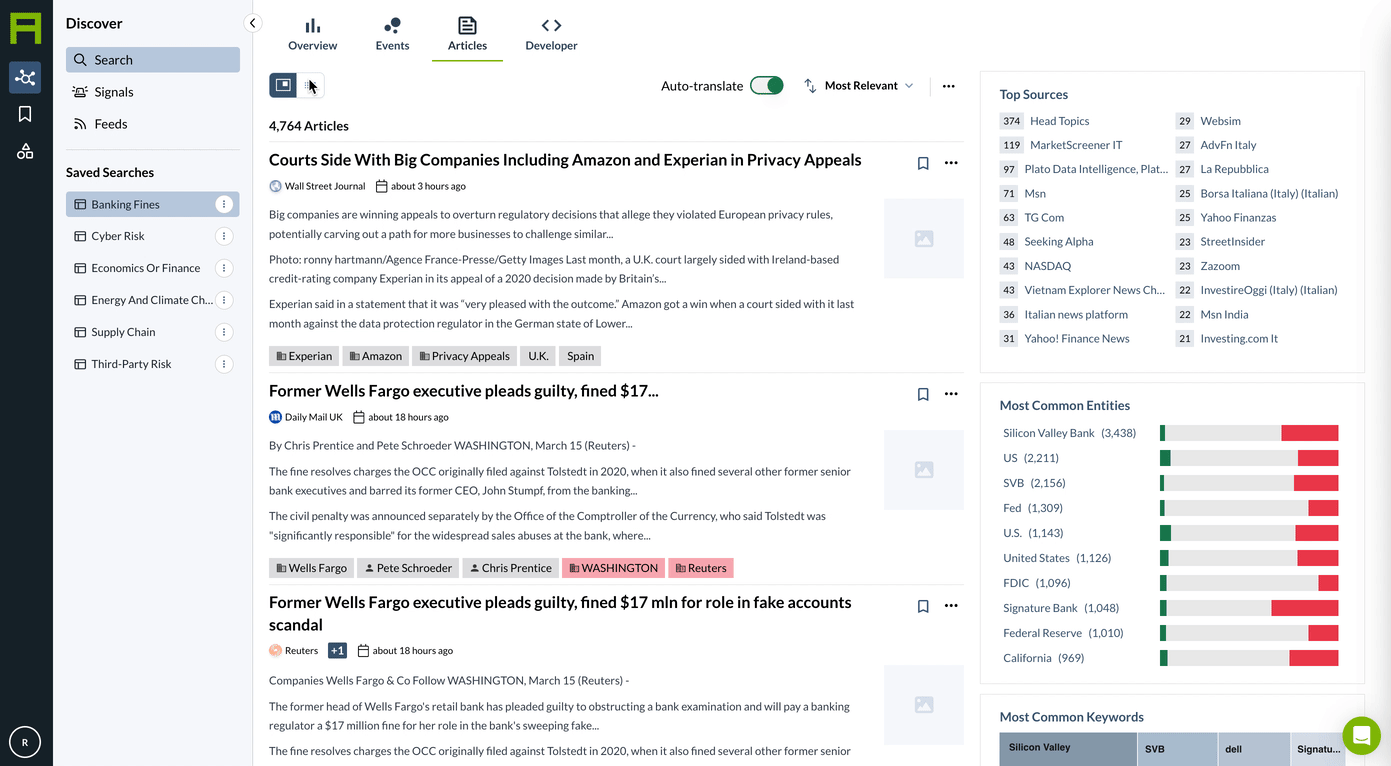 New investigation feature: Inspect Panel
We're delighted to introduce a powerful new investigation feature in the Quantexa News API app, Inspect Panel, which enables users to drill down into specific segments of news within their initial search results. Once a search has been run Inspect Panel can be accessed within the Overview tab by clicking on specific elements within the Most Common Categories/Industries/Entities/Keywords panels.
When the Inspect Panel is activated it will appear on the right hand side of the screen, featuring a time series visualization of the segment that you've selected, and the articles associated with the segment of the search. The scope of the time series can be altered with the slide bar, and clicking on a specific date/node on the time series will refine the displayed articles to that date only.
Once you've investigated the segment in the Inspect Panel you can choose to add or exclude it from your search. You can do this for multiple Entities, Categories, Industries and Keywords, to help you refine your query until it delivers the results that you require.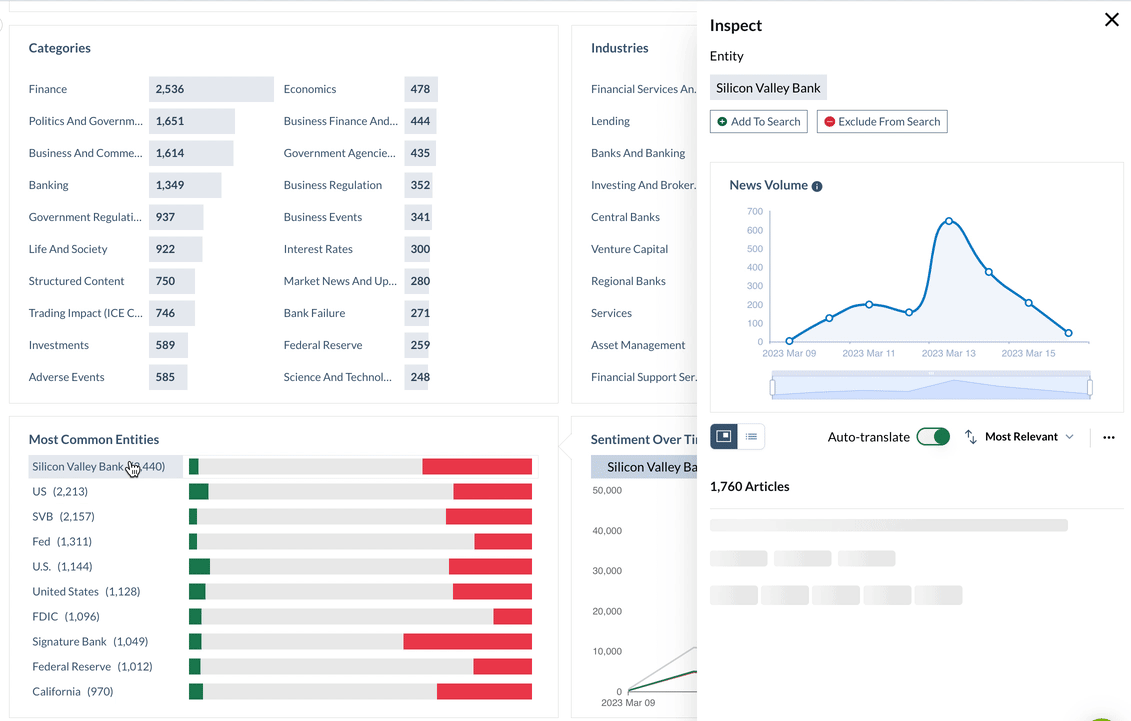 Entity search enhancements
Leveraging Entities in AYLIEN provides the most relevant and accurate results if you're searching for organizations, people, locations, products etc. Our current knowledge base contains over 5.6 million entities to include in your searches and feeds. Our latest improvements make working with Entities a better experience so you can create even more accurate and effective search queries.
We're now giving Radar users access to Enhance Entity Search, a suite of features to fine tune your Entity searches. Enhanced Entity Search enables users to choose which element of the news article they want to focus their Entity search on (title, body, title & body), as well as the sentiment associated with the entities chosen in the search (positive, neutral, negative). For more information on Enhanced Entity Search, including Entity Level Sentiment Association, check out this blog.
Enhanced Entity Search also introduces Entity Prominence into Radar, which helps users pinpoint the most relevant news articles relating to their entities of interest. Entity Prominence is a calculation based on a number of criteria, including how many times the entity is mentioned in the article, and where the entity is mentioned in the article. For example, an entity mentioned 7 times in an article, with emphasis towards the top of the article, will have a higher prominence score. Users can set the threshold for Entity Prominence, so that only articles that contain entities which meet the Entity Prominence score are returned in the results.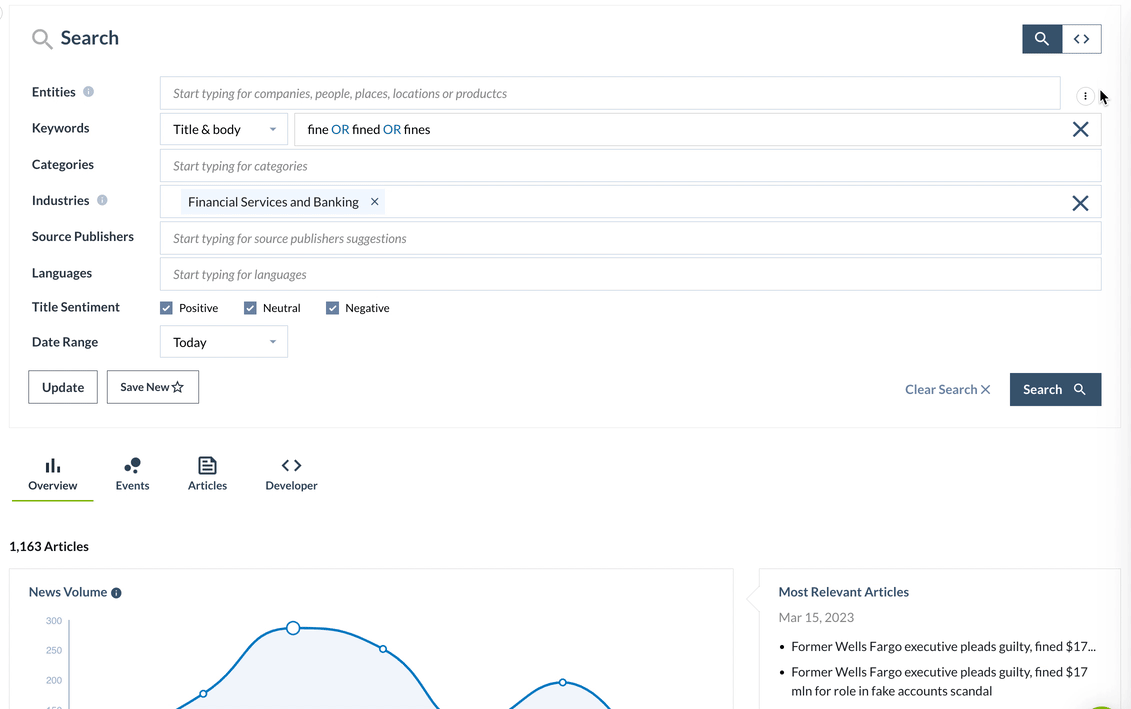 Entities can also be added in a new way in Radar, by selecting Add My Entities, which gives users the option to add entities that you have curated in My Interests. This can be done in two ways:
Selecting entities from the list of entities that you follow
Adding an Entity Group which you have curated
The benefits of adding entities in this way are that it significantly speeds up time if you are creating a query with multiple entities, and reduces the risk of error (e.g. selecting the wrong entity, or accidentally overlooking one).
Try Quantexa News Intelligence for yourself, by signing up for a 14 day free trial of either Quantexa News API trial (if you are technical user such as a data scientist or developer) or Radar (if you would like an easy to use graphical user interface to search the news).
Stay Informed
From time to time, we would like to contact you about our products and services via email.