Media monitoring is a critical part of many organizations' operations, playing an important role in brand reputation and crisis management, competitor monitoring, and uncovering business opportunities.
There's a problem though. Established media monitoring methods and tools are no longer able to keep up with today's overwhelming volume of media coverage. The old ways of manually tracking and monitoring the world's news are simply inadequate. They're inefficient, ineffective, and inaccurate. Thankfully the days of cutting out newspaper clippings are long gone. Soon the same will happen to complex Boolean searches that always miss something out, irrelevant Google alerts that distract you from the news that actually matters and hours of trawling through articles praying for signals and mentions.
This is thanks to News Intelligence, which utilizes cutting-edge AI, and in particular natural language processing (NLP), to aggregate, understand, and deliver the world's news in real time. It's faster, more effective, and more accurate than any previous media monitoring process, meaning that you can concentrate on the more important aspects of your job. Here's how it works.
The Three Stages of News Intelligence
Aggregate
The first step in successful media monitoring is comprehensive media coverage. You simply can't afford to miss anything. There are plenty of solutions out there, from the costly and time-consuming method of building and maintaining web scrapers yourself (plus the cost of licensing content), to buying ready-made content pipelines with all the news you could ever want (but probably, even more, you don't want). The reality is, collecting content is one thing, but being able to easily find and analyze news and media that matters, when it matters, is a whole other thing. Which brings us on to…
Understand
This is where NLP comes into play as your new best employee, transforming hundreds of thousands of unstructured media articles into structured data every day in real time. Or in other words, NLP makes it possible to understand exactly what each article contains. It does this by automatically identifying a number of datapoints, like entities (people, places, companies, concepts, products etc), news categories (over 2,600 of them), and sentiment (positive, neutral, negative), as well as extracting a rich amount of metadata (location, timestamp, source, author etc). In this way, order is established, and you can move on to the most important stage of media monitoring: finding mentions and extracting market insights.
Deliver
The real beauty of all that structured data is the ability to search through it with absolute ease. To use a basic metaphor, NLP makes finding that needle in the haystack more like finding a needle amongst a couple of pieces of hay. This is done by using a combination of advanced filters and search criteria (entities, categories, keywords, metadata etc) that pinpoint exactly the criteria you are interested in discovering and monitoring.
For example, let's see what the boolean string looks like beside the entity search for the exact same search intent (in this case, Pandora Music):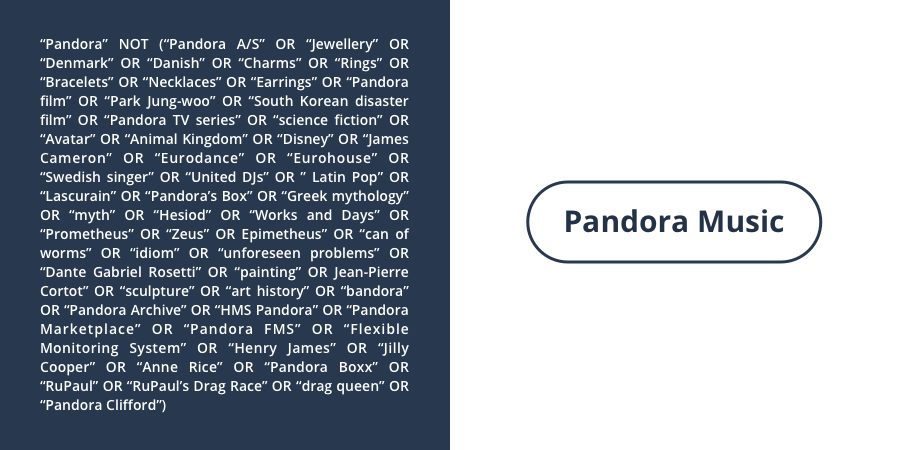 News Intelligence enables you to go further, with analysis capabilities that make it easy to build visualizations and models to really understand and quantify the impact of breaking news.
Now that you understand the basics of News Intelligence, take a more in-depth look at how you can apply it to media monitoring in this recent blog, 'TikTok – Tracking the Trajectory of a Tech Giant with Media Monitoring'. You'll discover how we used AYLIEN News API features like Time Series, Trend Analysis, Clustering, and Sentiment Analysis, to perceive how TikTok is being perceived in the news.
Stay Informed
From time to time, we would like to contact you about our products and services via email.