TikTok, the video sharing platform, is the first Chinese commercial app that has achieved truly global success. In fact, earlier this year the platform reached 2 billion downloads worldwide, a milestone that attests to its popularity and dominance in the social media market.
Yet TikTok has been mired in controversy, particularly in recent months. From failures to abide by privacy protection legislation, accusations that it fosters pornography and paedophelia to allegations of international espionage and political intrigue, time has not been kind to TikTok.
The social media giant has enjoyed a meteoric rise in recent years but in the wake of US President Trump's threat to ban the platform, is it due to come crashing down?
Media Monitoring with News Intelligence
A brand's most vital resource is its reputation. In fact, according to the World Economic Forum, 25% of a company's market value comes directly from its reputation. Media monitoring enables companies to keep on top of how they are perceived as well as track potential risks or competition.
However, due to its scale and incessant nature, manually keeping track of the news is impractical for large organisations. News intelligence platforms, however, can utilize Machine Learning and Natural Language Processing to automate this process and proactively monitor the news to garner insights and help make decisions.
We were curious to see how TikTok was perceived in the media so we used our News API to investigate with a Media Monitoring lens.
Media Mentions Over Time
First, we performed a search for all news stories featuring TikTok over the last two years. As we can see from the chart below, daily coverage of the platform is quite low in 2018 and grows to a great number by 2020.
While we know that a great proportion of this increase in coverage is due to increasing controversy surrounding TikTok in recent months – as reflected by major spikes – the gradual and consistent increase can be attributed, in part, to to its growing popularity, resulting in its reference in entertainment-related articles e.g. Dancing gran, 88, goes viral on TikTok.
The TikTok Saga
Media Monitoring of News Coverage Over Two Years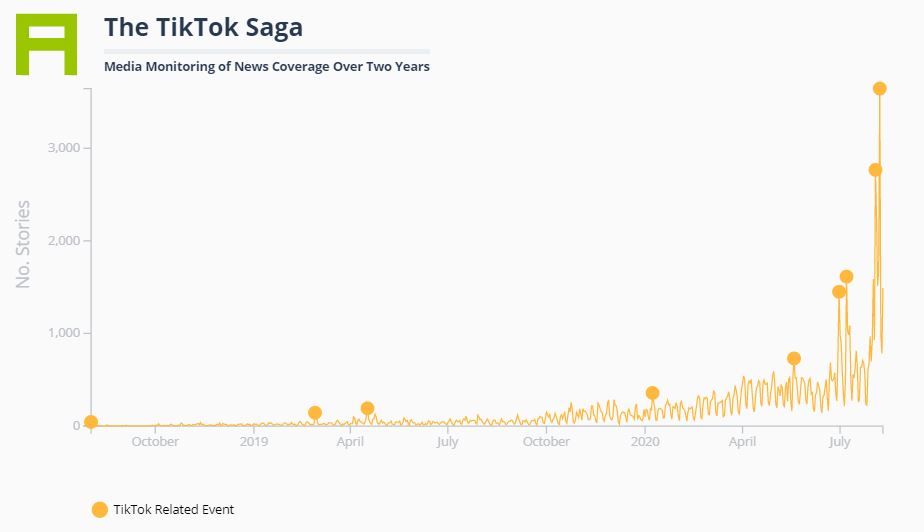 The earliest minor spike in August 2018 occurred when TikTok merged the pre-existing Musical.ly platform with their own, a move that established TikTok in the US and UK. The next spike relates to a $5.7 million fine the Federal Trade Commission charged TikTok for collecting data from children aged under 13. The Commission described the fine as "the largest civil penalty ever obtained by the Commission in a children's privacy case."
The nature of the TikTok's content has also gotten them in trouble. The platform was banned in India in April 2019 following direction from the Madras High Court, resulting in another media spike. The Court stated that TikTok "encourages pornography" and allowed paedophiles to target its young user base. While this ban was subsequently lifted, the app was banned again in July 2020, in reprisal to a violent border clash with China. While not referencing China explicitly, the Indian government stated that this move was to prevent TikTok from "stealing and surreptitiously transmitting users' data in an unauthorised manner to servers outside India".
It is this allegation that TikTok are recording user data that the Chinese government can access that has caused consternation in the United States and as such has been described as a US counterintelligence threat. While TikTok maintains that it does not hold TikTok user data in China, this has done little to assuage American concerns. Consequently, in an executive order, US President Donald Trump has threatened to ban the platform unless it is sold to an American owner within 45 days. This has led to a huge media spike in August 2020 as the question of the application becomes further politicised. Speculation that Microsoft will buy the platform receives further media attention.
Sentiment Analysis
We were interested in investigating how media sentiment towards TikTok changed over time. Using our News API, we pulled all stories featuring TikTok that were classified as positive or negative; neutral documents were omitted. As expected, more stories are classified as negative in recent months as media and public opinion surrounding the app has shifted.
The TikTok Saga
Sentiment Analysis Over a Two Year Period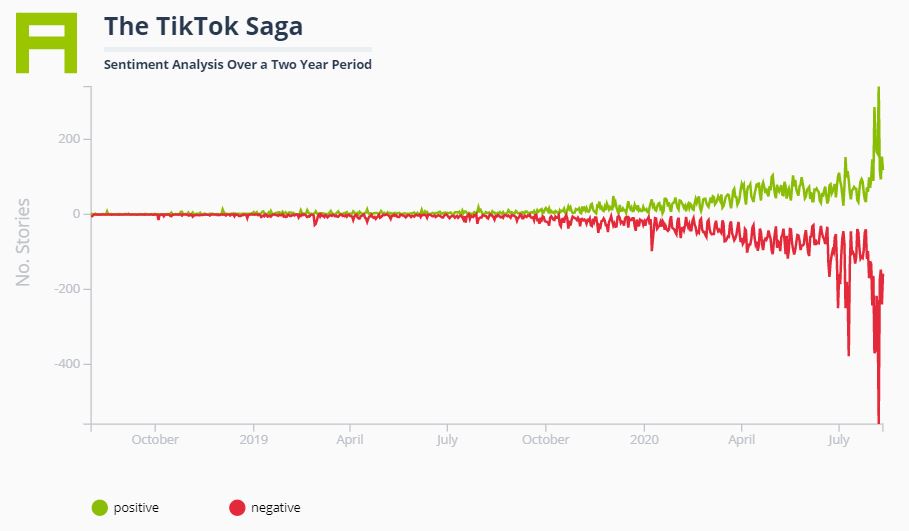 The TikTok Saga
Major News Clusters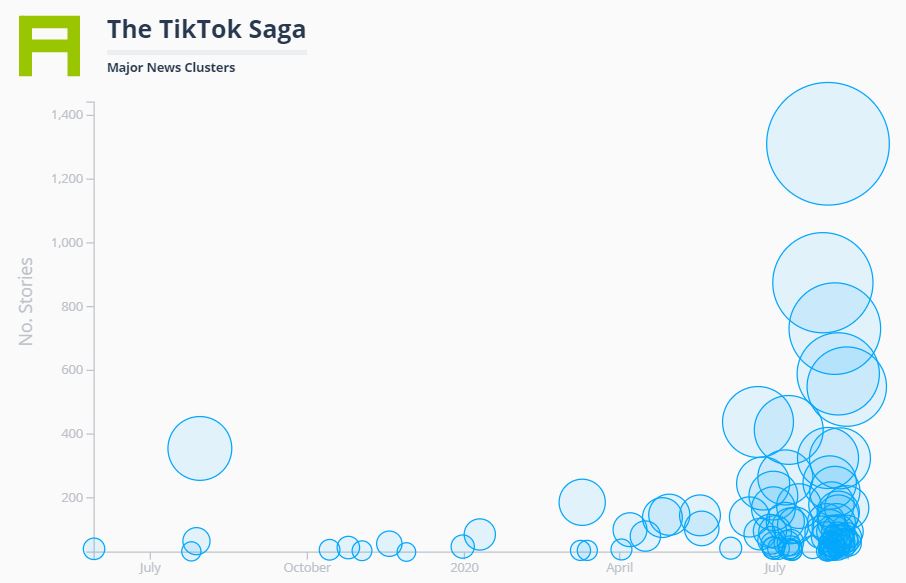 Topical Themes
We can analyse how the nature of media coverage has changed over time by looking at the distribution by news category. Using our categories enrichment, we can identify what topical category a story relates to.
In the graph below, we can see that arts, culture and entertainment held a considerable proportion of coverage until August 2020 when it became dominated by politics and economy, business and finance categories. Right from the outset, TikTok has continuously been discussed in economic contexts due to its rapid rise as a popular and lucrative platform.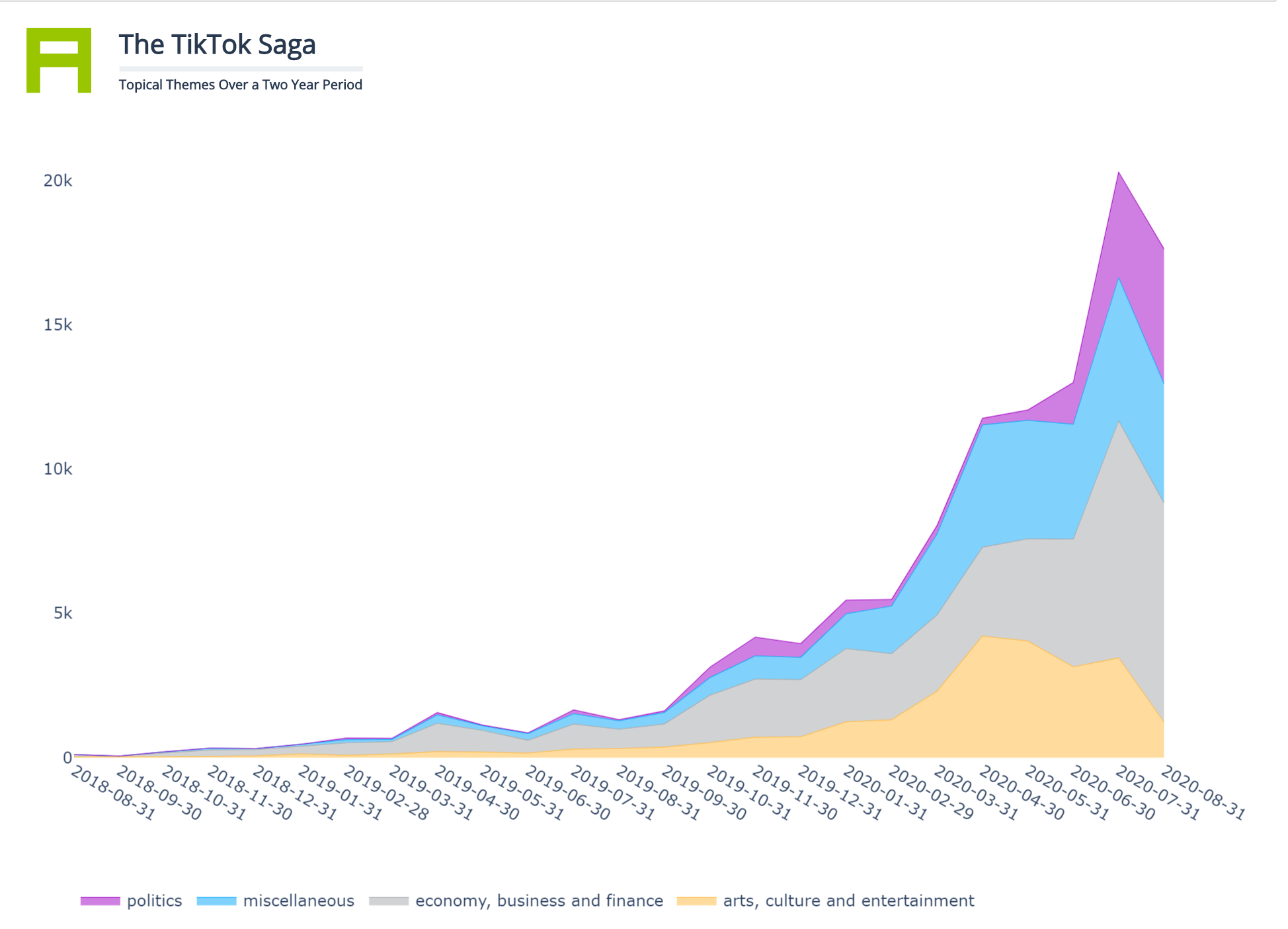 Media Trends – Competitor Analysis
We can also get a quick synopsis of news using AYLIEN's trends endpoint. Using NLP, we can extract the most commonly occurring entities that occur in the news stories, giving us a general indication of what is being discussed.
If we analyse the most common entities in the six months, we can see that TikTok is being discussed in the context of other social media giants, most notably Instagram, as well as Twitter, Facebook, Youtube and Snapchat. In these uncertain times for TikTok, these competitors will surely be posturing to take over their mantle.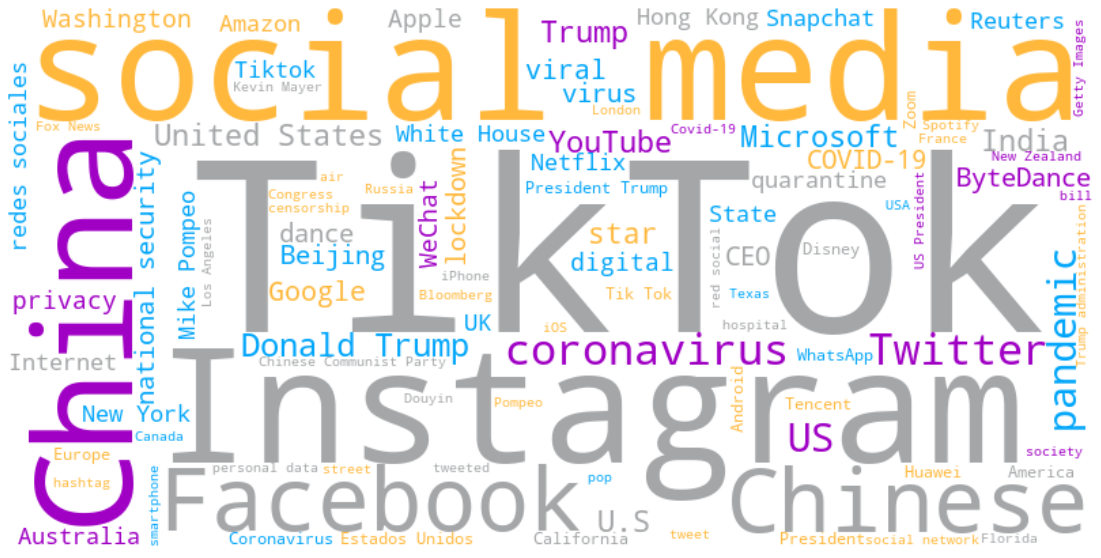 We also see terms such as "national security" and "Donald Trump" in relation to a prospective ban. Microsoft also appears in light of their bid to purchase the company.
Competitor Coverage
With the future of TikTok uncertain in light of an impending US ban, an opportunity for competitors may be on the horizon and social media influencers are already weighing up their options of which platform to adopt.
Coverage of Facebook's newly launched Instagram Reels has spiked in recent months, but other would-be contenders Triller and Byte have made little impression in the press. This can be expected to some degree as Instagram Reels has the financial might and consumer interest of Facebook behind it while the other two are relatively small fish in the tech pond.
The TikTok Saga
Volume of Competitor Coverage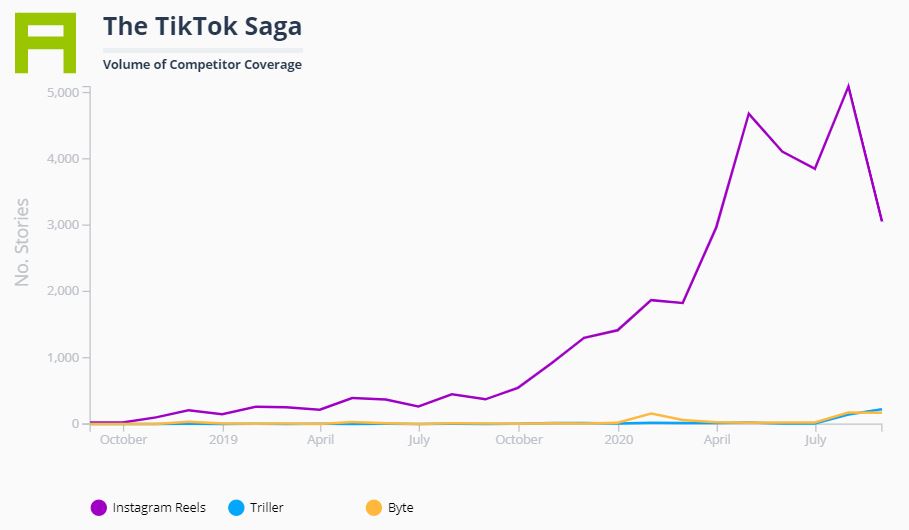 However, it is reasonable to assume that users will not gravitate to new platforms based on the influence of news coverage; rather, media coverage will react to their migration, so these trends may not identify Reels as the heir apparent.
Media Trends – Crises Monitoring
Aside from the allegations of cyber espionage, TikTok has been conflated with various other adverse activities including "propaganda", "censorship", "surveillance" and "bullying". The following chart tracks the occurrences of TikTok mentioned in conjunction with these terms over time.
The TikTok Saga
Frequency of Mentions with Adverse Terms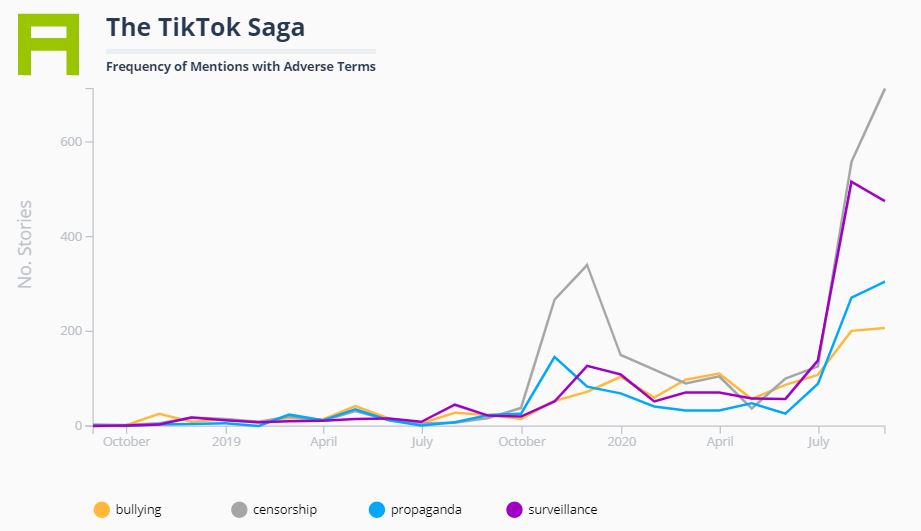 We can see a significant spike for coverage of TikTok and "censorship" in November 2019 when reports that TikTok blocked a user for highlighting China's maltreatment of Muslims in Xinjiang. While a spokesperson blamed a technical error, TikTok have been accused of censorship at a time when China is facing international condemnation for its policies in Xinjiang. A second spike corresponds with Trump's announcement of a prospective ban on TikTok, in which coverage links the Chinese government to "censorship" and "surveillance".
Elsewhere, a spike for "propaganda" in October 2019 relates how TikTok removed Islamic State propaganda from their platform.
Bullying is also frequently associated with TikTok stories but not in relation to cyber-bullying, as one might expect. On further investigation, we found that, although a small portion of stories associate TikTok with cyber-bullying, the spike in these mentions occurred due to comments made by a Chinese diplomat calling on the US to stop bullying Chinese firms, as per the impending ban on TikTok. This exemplifies the need to challenge presuppositions regarding data.
Conclusion
We have shown how news intelligence can be used to inform a media monitoring toolkit using sentiment analysis, news clustering and topic trend analysis.
From humble beginnings, TikTok has grown into an international social media juggernaut, one that is now embroiled with political controversy on an international stage.
While the bulk of media disseminated regarding TikTok in recent months has had negative connotations, ironically the company may actually benefit from free user acquisition. Having spent millions on advertising to establish their teen user base, they have recently benefited from exposure in the general press, essentially giving them free advertising to the 30+ age bracket
The old adage states, there is no such thing as bad publicity – will this prove to be the case? Needless to say, only time will tell for TikTok.
Stay Informed
From time to time, we would like to contact you about our products and services via email.