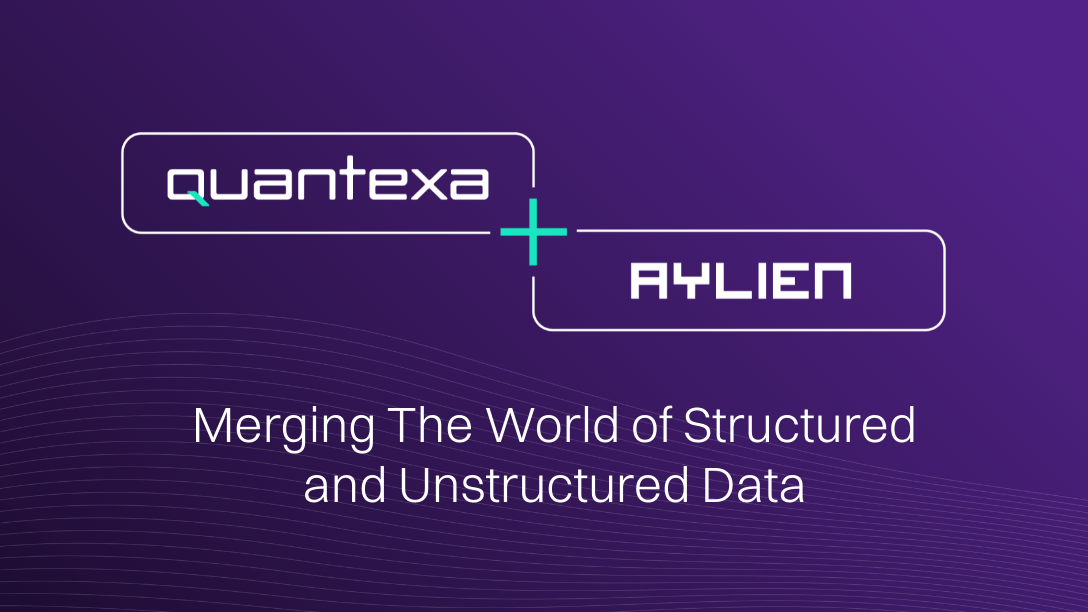 A note from our CEO and Founder, Parsa Ghaffari
Today I am excited to announce that AYLIEN has been acquired by Quantexa, a global leader in Decision Intelligence (DI) solutions. As Quantexa's first acquisition, we're delighted to be joining forces with such an innovative and successful organization in a market with enormous growth opportunities.
A little over a decade ago, we set on a mission to bring the power of text analytics and NLP to business applications that needed it the most to deliver value to their customers. Through several product iterations and continuous innovation, as well as close collaboration with companies who saw the value of NLP as an enabler for improving and optimizing existing business processes, or perhaps creating entirely new value propositions and revenue lines, we ultimately honed in on applying our cutting edge NLP technology to large volumes of textual data to deliver Risk and Market insights to some of the world's leading enterprises such as Wells Fargo, IBM, Fidelity, Bosch, and Deloitte, in order to help them and their customers better manage and mitigate their risks, as well as take advantage of opportunities ahead of competition.
Today we've reached a very important and exciting milestone in our journey. AYLIEN and Quantexa are joining forces to bring the best of structured and unstructured data intelligence together, and to deliver a world-class Decision Intelligence platform to a $230bn market. AYLIEN's technology and expertise in NLP, combined with Quantexa's differentiated structured and semi-structured Decision Intelligence platform, bring tremendous value to both organizations' customers, and enable a wide variety of use cases that can be sold to a very large market, from Financial Services all the way to Telecommunications.
AYLIEN and Quantexa share a common vision, realizing early on in our respective journeys that organizations underutilize data, resulting in suboptimal decision-making, reactive and ad-hoc risk management, and missed business opportunities.
With groundbreaking AI innovations like Large Language Models (LLMs), we have the potential to fundamentally transform how business is done. We are excited to work with our new colleagues at Quantexa to bring these innovations into the world of Risk and Compliance.
I would like to express my gratitude to the AYLIEN team for their hard work and trust in me and the AYLIEN leadership team. We are also grateful to our customers for trusting AYLIEN, and we assure you that our commitment to your success will only increase with this acquisition.
- Parsa
Stay Informed
From time to time, we would like to contact you about our products and services via email.