AYLIEN's latest whitepaper, With vs Without AYLIEN News API, focuses on the options organizations have once they've realised they need a better way to discover relevant, timely, and accurate news for their internal teams or external customers.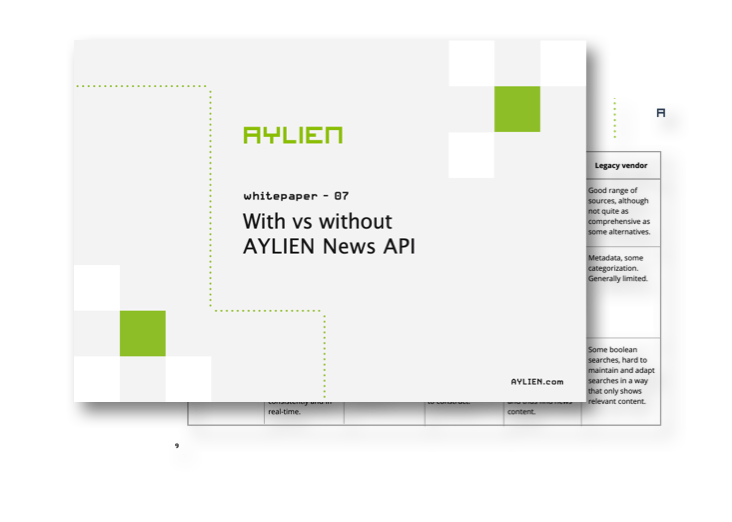 Of course at AYLIEN we firmly believe that our approach, and our News API, are the single best ways to handle the challenge of aggregating, understanding, and delivering the world's news. But there are alternatives to AYLIEN out there. These range from building something similar in-house, to ad hoc web searches or Google Alerts, through to legacy clipping services that (theoretically) provide a stream of relevant news. All have advantages, but equally, all have their drawbacks.
The alternative approaches that this whitepaper examines are:
Building a system yourself
Integrating a raw news feed as required
More developed news API solutions
Legacy media monitoring solutions
Implementing any major new system is always a big deal, and so it is critically important to make sure that you've considered each option thoroughly for your organization's requirements. That's what this whitepaper aims to achieve. Download it now, and we hope you make the right decision for your organization.
In the meantime, you can sign up for a 14 day free trial of AYLIEN News API now. Our comprehensive documentation and get-started guides will enable you to start making the queries that uncover meaningful news insight within minutes.
Stay Informed
From time to time, we would like to contact you about our products and services via email.