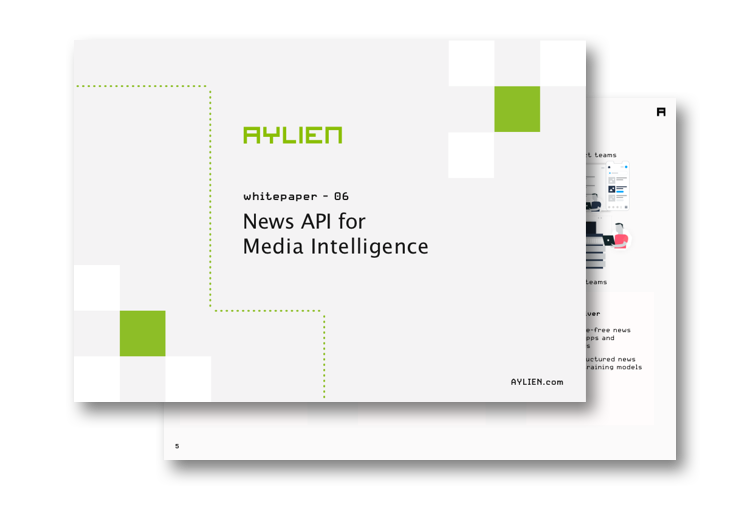 AYLIEN's latest whitepaper, News API for Media Intelligence, focuses on the media intelligence industry, and in particular market, competitive, brand, and sales intelligence. What they all share in common is a requirement for easy access to the world's news in real time.
News is an insight-rich source of data that provides critical and timely signals for media intelligence purposes, but the speed at which news content is published, and the scale at which it is created today, poses a daunting challenge for media intelligence organizations looking to leverage media signals in their applications or processes.
The sheer volume of daily global news in the 21st century makes it impossible to manually collect and process news data in an effective and efficient way. Traditional workflows have been stretched to capacity, and new ways of operating needed to be established.
Artificial intelligence, and more specifically machine learning (ML) and natural language processing (NLP), are being used to overcome the challenge of scale. News Intelligence solutions utilize ML and NLP to aggregate, understand, and deliver the world's news in near real time, automating processes in seconds which would otherwise take human teams an unrealistic amount of man hours.
This whitepaper will take a look at one of the main tools that media intelligence organizations need to invest in as part of the digital transformation: AYLIEN News API. It will also examine how it can be used across various customer use cases to find and deliver the news that matters, while it matters.
Download the News API for Media Intelligence whitepaper here.
Stay Informed
From time to time, we would like to contact you about our products and services via email.