This latest video gives you an insight into why customers like IHS Markit, Wells Fargo, and Moody's choose AYLIEN News API for their news data requirements.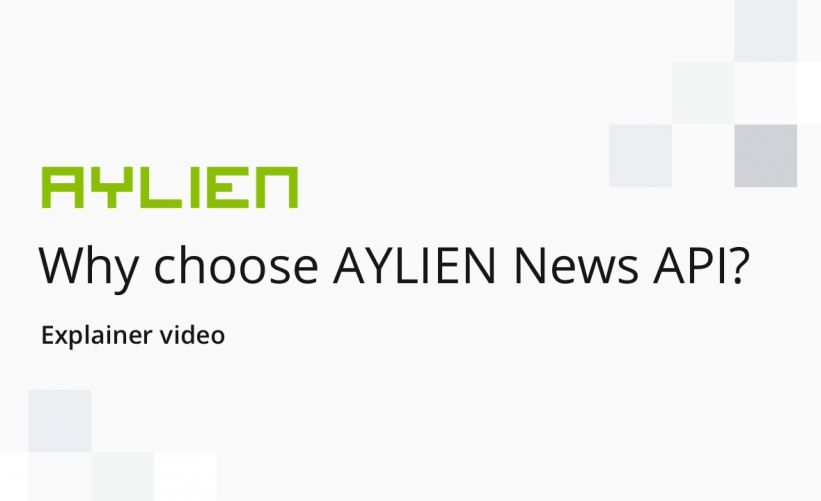 If you're watching this video there's a chance that you're either already using a News Data provider or considering using one. The video tells you why some of the world's leading companies such as Wells Fargo and IHS Markit are choosing AYLIEN as their news data provider.
There are several factors that contribute to a high quality news data feed. We put these in 3 broad categories: Content, Enrichments & Search and Ease of Access. Let's go through each of these briefly:
Content: No matter what type of signal you're looking for in the news, you want a news provider that gives you access to high quality news content with extensive coverage of global sources and most importantly with an appropriate data licensing model.
At AYLIEN we pride ourselves on covering more than 80,000 sources across 200 countries and ranging from the very top publishers all the way down to small blogs and news outlets giving you the full spectrum of the content that you need. Moreover, we have up to 10 years of historical coverage that you can readily access at any given moment.
Enrichments & Search: So you've made it as far as having access to a good collection of news sources, but how do you capture the events that matter the most to you and your organization?
Well the first part of the solution is a powerful search engine. AYLIEN's search engine gives you access to 1 billion news articles for real time semantic search at any given time. Highly relevant results at your fingertips!
The second part of the solution is data enrichments that allow you to slice and dice the news data along key dimensions such as entities and categories. AYLIEN provides extensive multilingual NLP analysis of the news content, providing you with access to 5.6 million entities and thousands of categories covering industries, subjects & topics, trade impact events and adverse news.
Ease of Access: Finally it's extremely important that the news data provider you choose provides an efficient and straightforward integration model.
AYLIEN's News API is built by developers for developers, meaning you or your development team will have access to high quality documentation and SDKs that allow them to get up & running in minutes.
More importantly you will have a dedicated customer success advisor who will ensure you need everything you need to get up & running as fast as possible.
Try it for yourself by signing up for a 14 day free trial of AYLIEN News API.
Stay Informed
From time to time, we would like to contact you about our products and services via email.