Continuing the video series, this week Parsa explains how news data from AYLIEN News API can provide critical signals for risk monitoring and management processes.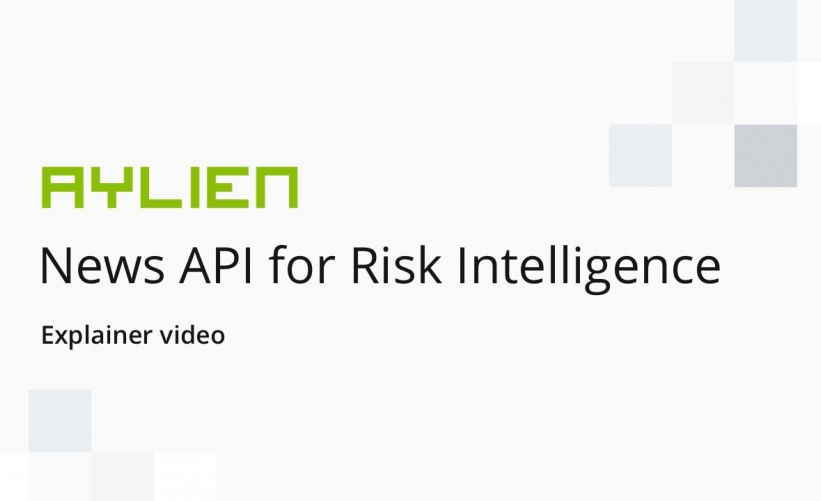 News is increasingly being used in risk management as a critical data source for the early identification of risk events. For example articles identifying credit risk events for credit scoring, reputational risks for 3rd parties, or environmental risks for ESG monitoring.
To do this successfully, risk teams need access to extensive news coverage across mainstream and longtail media. But finding what matters among millions of articles every day is extremely difficult, not to mention time-consuming and costly. As a result, important risk signals are missed entirely, or discovered too late to take the appropriate action on.
AYLIEN's News API provides the extensive coverage that risk teams need, with over 2 million articles added to our news database every day. And crucially, we enable our users to quickly and easily find exactly what risk events they're on the lookout for, thanks to our cutting edge entity and category tagging, as well as a number of other data enrichments which turns the world's news into actionable risk signals.
The combination of content, entities, and categories has delivered some outstanding results for some of our customers, including a 10x increase in candidate risk events discovered in one company, and a 40% improvement in analyst efficiency in another.
It's an incredibly efficient, effective, and accurate way of augmenting risk identification and assessment processes, and you can try it for yourself for free on our website, AYLIEN.com.
Stay Informed
From time to time, we would like to contact you about our products and services via email.