What are you currently working on?
Making AYLIEN a great(er) place to work.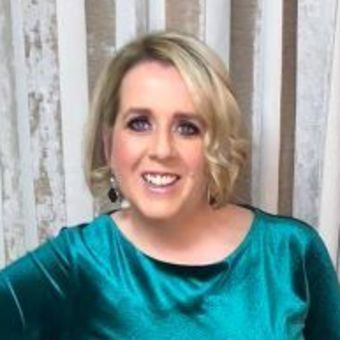 Do you believe in aliens and/or ghosts? Explain your reason(s).
I think we definitely can't be alone in the universe, so yes to Aliens. I believe in something bigger than ourselves but don't believe in Scrooge/Marley type entities.
What did you want to be when you grew up?
A vet.
Favourite book/album or song/film / TV programme (you can answer one or all).
So hard to pick favourites so off the top of my head;
Book - "What I know for sure" by Oprah Winfrey
Song - "Insomnia" by Faithless (reminds me of my youth)
Album - "Graceland" by Paul Simon (reminds me of Sunday mornings when I was young as my Dad always played it)
TV programme - Buffy The Vampire Slayer (I was OBSESSED with this and the spin-off Angel when it originally aired).
What is one thing your fellow AYLIENs don't know about you?
I may have seen Titanic 8 times in the cinema ... and cried every time!
Have you started a new hobby or interest during the pandemic?
After the initial few weeks of drinking and eating too much, I'm trying to be more health-conscious and have started Couch to 5K (again!).
Do you have a 2020 (so far) highlight?
Starting my role with AYLIEN, of course!
What would you choose for your last meal?
A combination of meals from my travels - prawn starter from Gran Canaria, duck quesadilla from New Orleans, steak from Michael Jordan's in NYC with a side of my Dad's mashed potato (best in the world) All washed down with some delicious cosmos! If it's my last meal, then I'd also try and squeeze in a cheeseboard!
Favourite holiday destination (so far).
More of a favourite holiday rather than destination - spent 3/4 weeks after getting married doing a fly-drive from San Francisco to LA then flew to Vegas for a few nights before breaking up the journey home with a few nights in New York. A heady combination of not caring about spending too much money and staying in amazing hotels eating amazing food and taking in all the sights at each stop. BEST HOLIDAY EVER (and all loans now repaid!).
Stay Informed
From time to time, we would like to contact you about our products and services via email.