When it comes to monitoring news, coverage is critical.
That's why we're excited to tell you that we've expanded our overall content source coverage by greater than 5x.
Here's what you need to know:
5x Source Coverage
Increased coverage from ~15,000 to ~80,000 trusted sources, covering mainstream and longtail outlets.
News API now ingests ~1,200,000 news articles every day.
Expanded reach to ~200 countries and territories.
Truly Global Coverage
New full translation and analysis support for Chinese content, as well as continuing translation and analysis support for French, German, Spanish, and Portuguese.
Each article is enriched with 26 datapoints using our proprietary advanced NLP technology, making it easy for you to extract business insight at this scale.
Our product improvements provide additional analysis capabilities for:
Risk Intelligence
Leverage our News API to identify, track, and understand risk signals at scale.
AYLIEN significantly improves the process of risk management, providing NLP and ML capabilities to aggregate and understand global news in real time, so risk signals do not go unnoticed.
Our News API will:
Replace inefficient manual workflows
Inform and augment risk monitoring processes and applications
Identify and investigate known and emerging risks
Build more accurate risk models
Media Intelligence
Effective Media Intelligence requires an extensive and trusted content reach.
Our curated content partnerships mean we can ensure your reach is as wide or as narrow as you need, through a variety of content types, languages, and geographical regions.
Our Natural Language Processing engine adds 25+ data points to every piece of content collected, providing an unlimited combination of search criteria and filters. This allows you or your users to build detailed and complex queries to pinpoint exactly what you're looking for.
The AYLIEN News API provides analysis capabilities that go beyond keywords and mentions to give you the smarts to help your users understand trends and insights extracted from text.
Features include:
Comprehensive media coverage
Monitor beyond keyword search using entities and categories
Never miss an event or mention with multilingual coverage and translation
Track media reaction with sentiment scores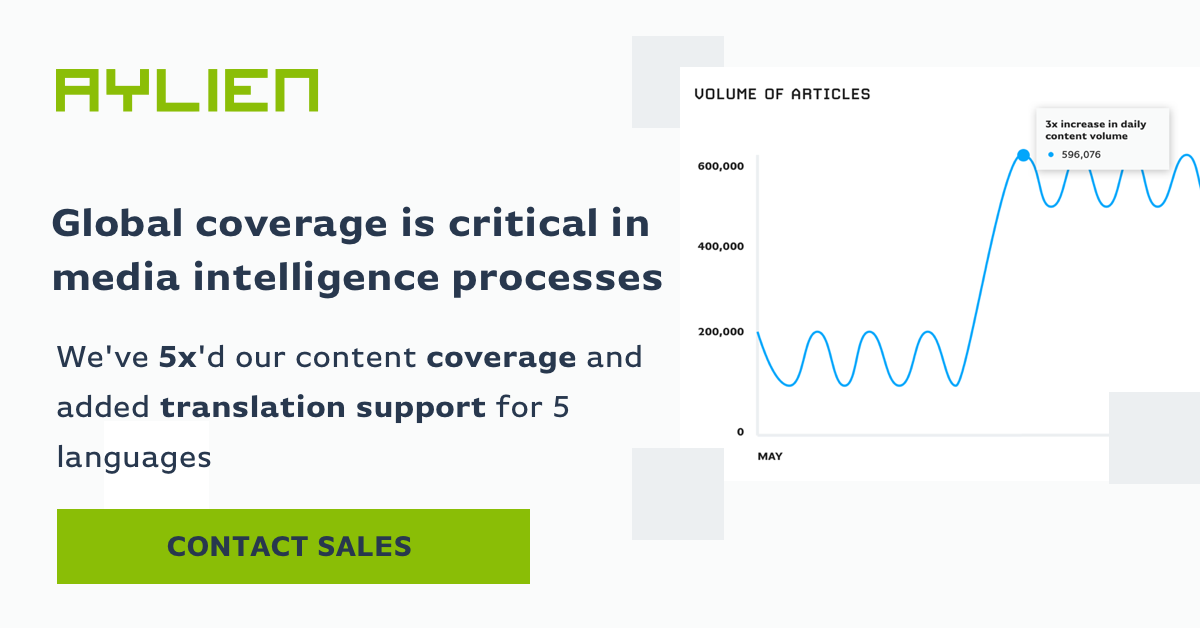 Stay Informed
From time to time, we would like to contact you about our products and services via email.