The coronavirus has caused untold disruption throughout the world in early 2020. Not only has the pandemic inflicted significant loss of life, it has wreaked havoc on businesses across many sectors. Indeed, commentators have gone so far as to name Monday 9th March "Black Monday" as the S&P 500 and Dow Jones each sunk nearly 8% amid economic stagnation.
We wanted to investigate what companies were most impacted by the pandemic so far. We used our News API to analyze media across the Transport, Manufacturing & Engineering, Sport and Entertainment industries. Using AYLIEN's categories enrichment, we sorted articles into these four groupings.
Volume of Stories
We searched for articles that were relevant to these industries that included key words such as "cancel", "disrupt", "postpone" etc. and also any mention of "coronavirus" or its variants in the body of the article in both English and translated content in 2020.
If we plot the output in a line graph, we can see that over time, there has been an increasing number of stories for each sector since the new year, as we would expect, with volumes spiking in March.
What Companies Were Affected?
In order to see what companies were most prevalent in these stories, we searched for stories using the same parameters as before, but also where a company or organization featured in the story title. We did this using AYLIEN's entity enrichment. We then plotted them in a series of wordclouds to identify the most prominent organizations per industry.
Transport
A quick look at the wordcloud for transport shows that the aviation industry has been hit hard by COVID-19. As countries continue to ban international travel, more and more airlines have been affected.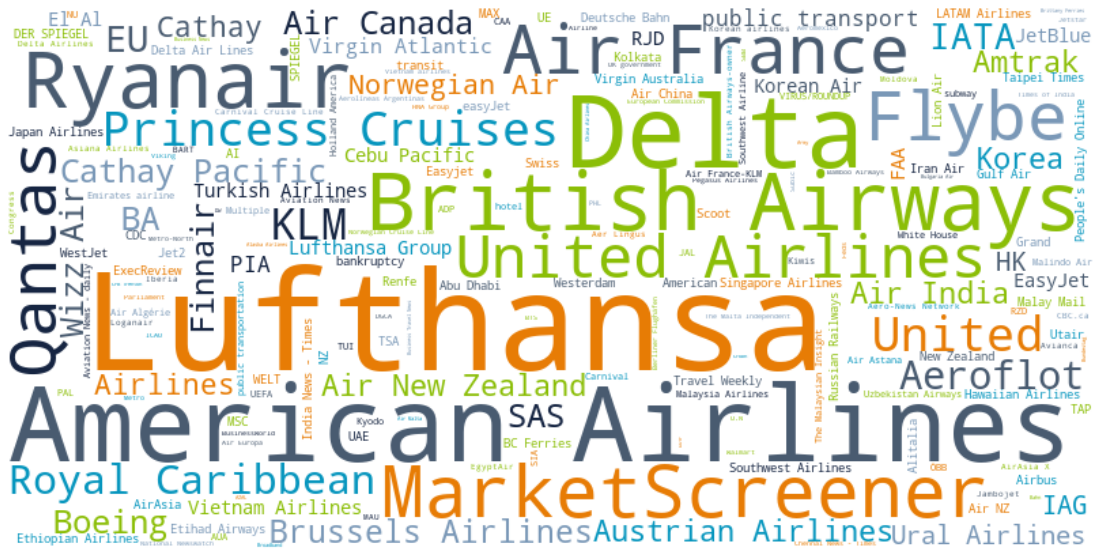 Among the collection of airlines, Lufthansa - the world's third largest airline - features most prominently. The airline has cancelled 25% of flights as passengers avoid travel. Flybe also features prominently, an airline that had been struggling for some time but finally collapsed under the strains of the pandemic. Meanwhile, American Airlines has cancelled flights to impacted areas such as China and Italy.
Sport
The sporting world has gradually been brought to a standstill by COVID-19. In the sports wordcloud we can see the IOC and COI (International Olympic Committee and it's Spanish synonym Comité Olímpico Internacional ) have recently insisted the 2020 Games will go ahead despite calls to postpone. Meanwhile, FIFA has postponed the Copa America and Euro 2020 competitions until 2021.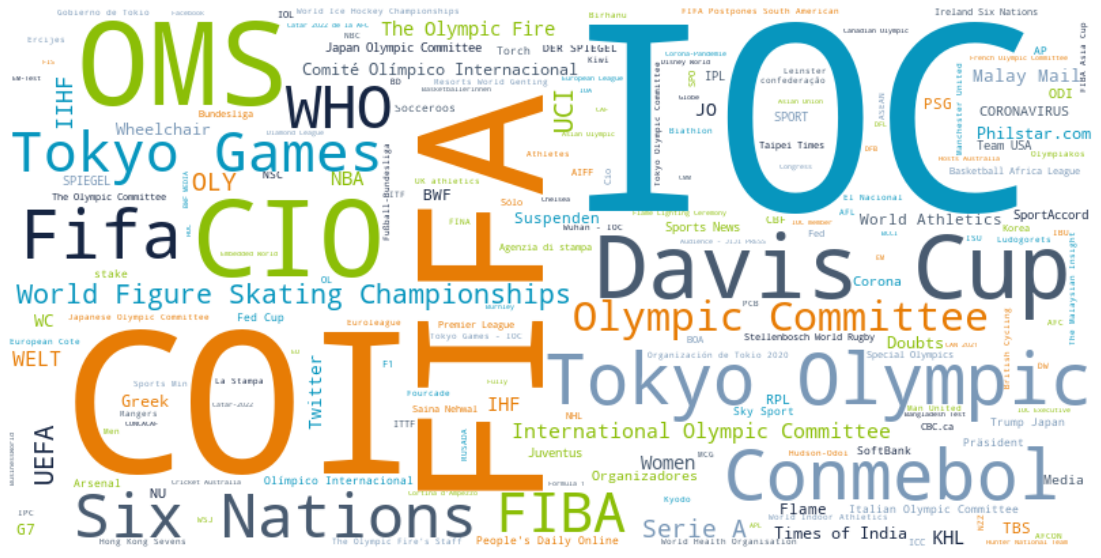 Entertainment
Disney features prominently in the entertainment wordcloud due to the closure of their theme parks as well as the expectation that their live-action remake of Mulan - a film set in China and targetting the Chinese market - will be delayed due to China's national lockdown. They also announced the early release of Frozen 2 on their streaming platform in the knowledge that many customers are currently stuck at home. Similarly, Marvel has delayed the long-awaited release of their Black Widow movie.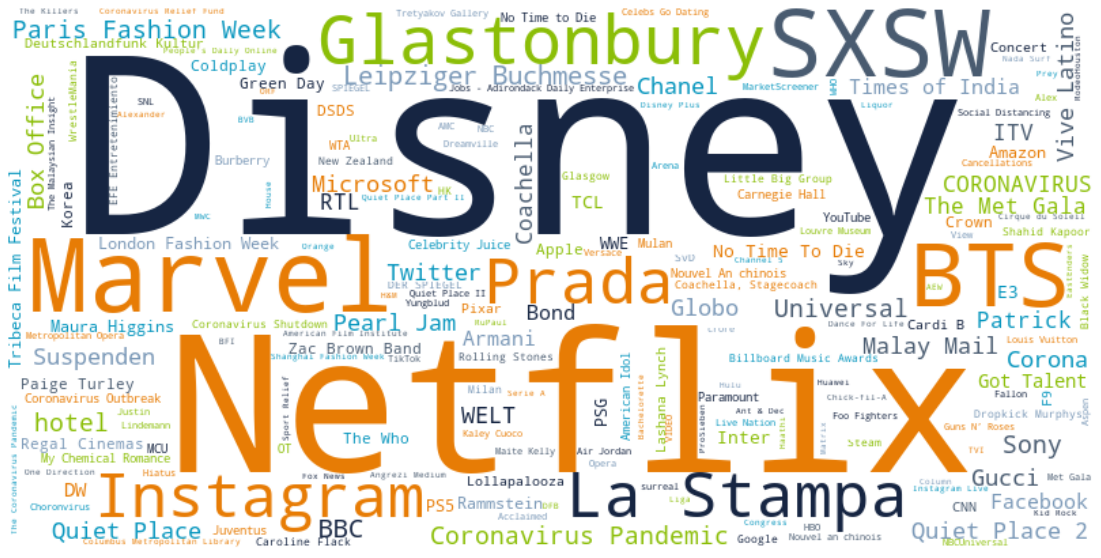 Netflix also features prominently for several reasons. The pandemic has impeded shooting, forced them to cancel events and screenings but despite this - or rather as a direct result of coronavirus - stock price has been boosted. Clearly restricted movement has some benefits for the home entertainment company!
Paris Fashion Week and a range of designer companies also feature. While the Fashion Week went ahead despite the French government banning congregations of more than 5,000 people, Prada and Gucci have postponed an upcoming show planned for May due to the contagion.
The major tech, music, and film conference South by South West (SXSW) and the UK's major music festival Glastonbury have also been cancelled due to the pandemic.
Manufacturing & Engineering
As the world's manufacturing powerhouse, there's no surprise that coronavirus - which originated in China - has impeded many companies' outputs.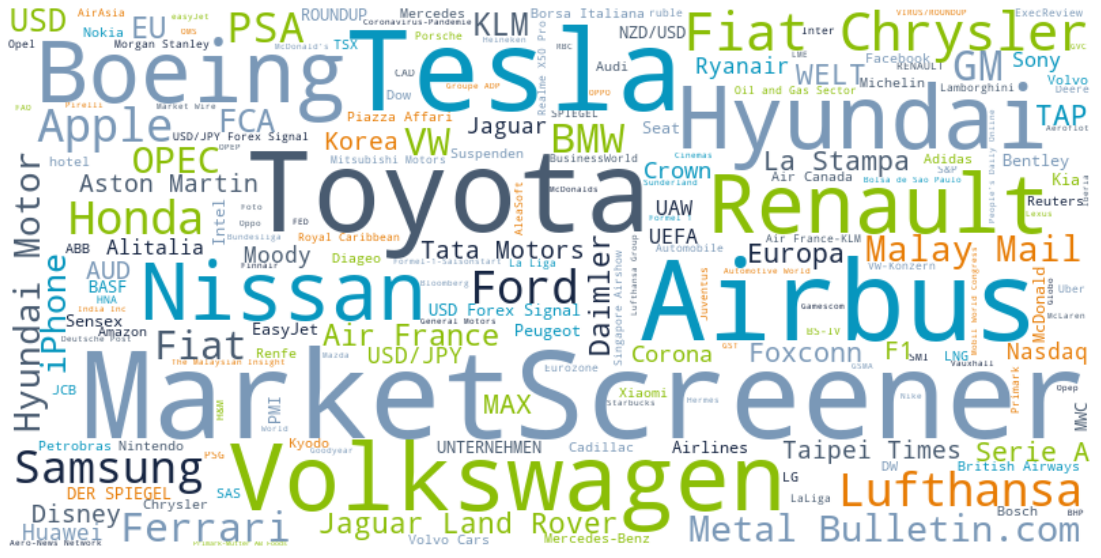 Nissan and Hyundai have both been forced to close factories in China and South Korea respectively, while Toyota's production line in Japan has slowed due to supply chain issues as some plants in the epicentre of the virus outbreak remain unable to produce and transport goods.
Airbus, on the other hand, failed to win any new aircraft orders in February, a clear manifestation of an industry in distress.
Tesla has recently been in the news for delivering new vehicles without its latest self-driving technology; they blame supply chain issues caused by COVID-19.
Supply Chain Issues
Due to several companies citing supply chain issues caused by the global pandemic, we wanted to investigate the supply chain impact on its own merits.
This time we performed a search for all stories that included the keywords "supply chain" and "disruption" (note we did not search for any presence of "coronavirus"). We pulled data from April 2019 until March 2020 to see if volumes changed over time. We can see that the volume of stories spikes sharply in February, no doubt caused by coronavirus.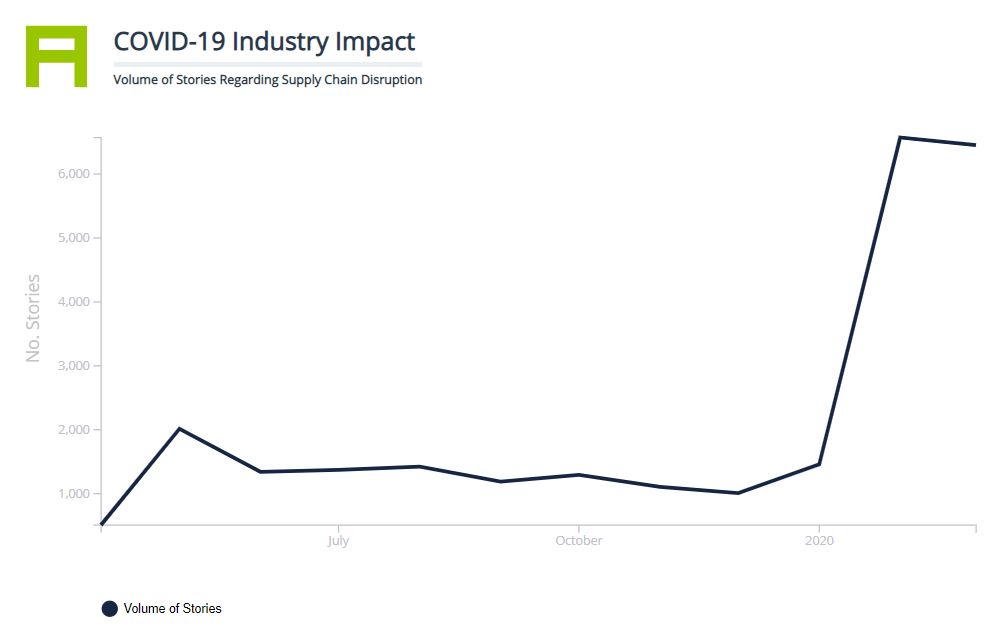 Again, we wanted to see which companies featured most prominently in these stories. We amended our supply chain query to search for stories published in 2020 that included company entities in the title and then created a wordcloud to see which companies featured most prominently.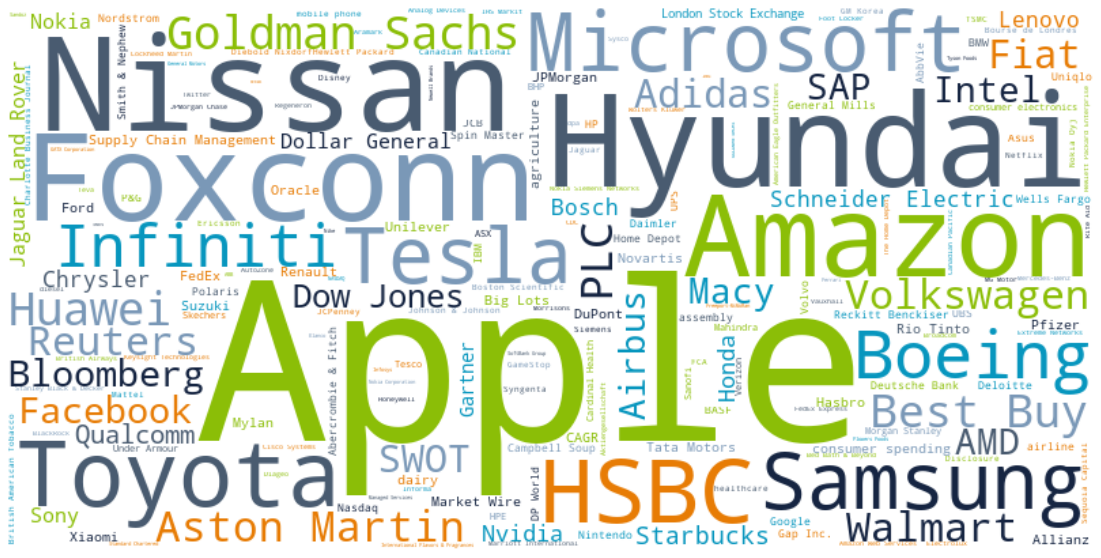 We can see the presence of afore-mentioned Toyota and Tesla, but Apple features most. Restricted movement has damaged sales but the company but has also been impacted by supply chain issues, having been forced to close their assembling facilities outside Hubei, an area at the epicentre of the outbreak.
Similarly, Apple's manufacturing partner Foxconn saw revenue sink 18.1% as their supply chains were impeded by the closure of their factory in Zhengzhou. Meanwhile, Amazon's supply chains are under strain with increased volumes of online shopping which has a follow-on impact for small-medium businesses. As one headline elegantly puts it: Amazon's Supply Chain Is Breaking and Small Businesses Are Screwed.
In the UK, Nissan and Toyota have closed their plants to due to supply chain disruption and drop in demand.
Clearly coronavirus has had a huge impact on the world economy to date. No doubt it will continue to impede business for some time to come.
Stay Informed
From time to time, we would like to contact you about our products and services via email.