The end of AlchemyAPI
Since the very beginning we've competed head to head with AlchemyAPI. We have always had a lot in common with them; from our initial mission of bringing NLP to the masses to launching features and products with similar goals and objectives. Even though we wouldn't have admitted it then, we looked up to Alchemy in many ways. The news of their acquisition by IBM meant a couple of things: 1. Our biggest competitor was going to be incorporated into a much larger platform and ecosystem and 2. The NLP-as-a-service market started to gather even more hype. But more so, the acquisition opened an opportunity for us to gather some of that market share left by the fallout. What's happened since then has been interesting. We hear them mentioned less and less in our sales calls and we've noticed more and more customers make the move to us over moving to Watson/Bluemix/Knowledge Studio...whatever it is you need to move to 😉 When we ask our ex-AlchemyAPI users why they've decided to move to us over sticking with IBM one particular aspect rings true; the experience we provide is better than working with IBM Watson. When they talk about experience they refer to some key points;
Support
Developer experience
Flexibility
Transparent pricing*
Ease of use
* I dare you try and figure out how much your monthly spend will be on a Watson service!
The deprecation of the service
Yes all of this was inevitable and to be honest we were surprised it took this long. AlchemyAPI had built a strong brand and for a lot of the reasons mentioned above it made sense for IBM to hold on to that Alchemy branding and to try and win over their user base. In the last couple of weeks IBM announced they're going to kill the AlchemyAPI services by deprecating the AlchemyLanguage and AlchemyNews products. It's being touted as a rebrand and for the most part it is. However, there are some key elements you need to be aware of in both products before you consider making the move to Watson.
So what's actually happening?
IBM are shutting down two core AlchemyAPI services, AlchemyLanguage and AlchemyNews. As of the 7th of April, you can't create any new instances of either Alchemy service and support will cease on the 7th of April 2018 for both products. IBM's advice is to switch to one of their other existing services, Watson NLU or Watson Language Classifier for AlchemyLanguage users and the Watson Discovery News service for AlchemyNews users. As we already mentioned, this was all expected to happen eventually and all seems pretty straightforward, right? Not really...
What you need to know
We've been investigating this for the last couple of days and we're still a little confused as to what a typical migration for users will look like. Figuring out which of the 120+ services on Bluemix you need is hard, deciding which Watson service you should migrate to is confusing and it's really not clear what elements of AlchemyAPI they are keeping and what exactly they're dumping in the bin. Even though they've made the effort to phase out the Alchemy services with the customer in mind, in our opinion they haven't made working with Bluemix and/or Watson easy from the get go, no matter which service you're using. This means existing Alchemy users are going to be faced with a number of challenges: changes in pricing, flexibility and accessibility and the deprecation of some core features.
1. Using Watson/Bluemix; have they lost the built-for-developers feel?
Access and ease of use
At AYLIEN we obsess over the "Developer Experience". We take steps to make it as easy as possible for our users to get up and running with the service. Our documentation is clear, complete and easy to understand and navigate. We provide SDKs for popular programming languages. We have a robust and fully functional product offering and we do everything we can to make even our paid plans accessible to development teams of all shapes and sizes. The accessibility of our tech is something we feel very strongly about at AYLIEN and that's something we believe was important to the AlchemyAPI team too. However, it's difficult to say the same about IBM. We can't comment on the details of the strategy but from what we hear from speaking with our users and the accessibility of Bluemix and Watson as a whole, things are looking a little grim for developers hoping to use the Watson language services.
You need a Bluemix account to access the Watson services which is only available on a 30 day trial
For most of the Watson services you'll only find limited SDKs available
The pricing structure of many of the Watson services is extremely prohibitive and down right confusing (more on that below)
Flexibility and support
What we hear time and time again from our customers is working with us is just easier. Put simply they don't want to deal with a beast of an enterprise like IBM. They want to know that if they have a feature request or feedback they'll be listened to, they don't want to jump through hoops and engage in a drawn out sales process in order to use the service, they want to know that the tech they're using is constantly evolving and the team behind it are passionate about advancing it, but above all, they want the reassurance that if something goes wrong they can pick up the phone and talk to someone who cares. We do everything we can to make sure our customers are getting the most of our APIs. We'll run on-boarding calls with new users, we consult with our users on how they can integrate with their solutions and from time to time we'll work directly with our customers to customize existing features to their specific needs. This level of service is only possible because of our ability to stay flexible and agile.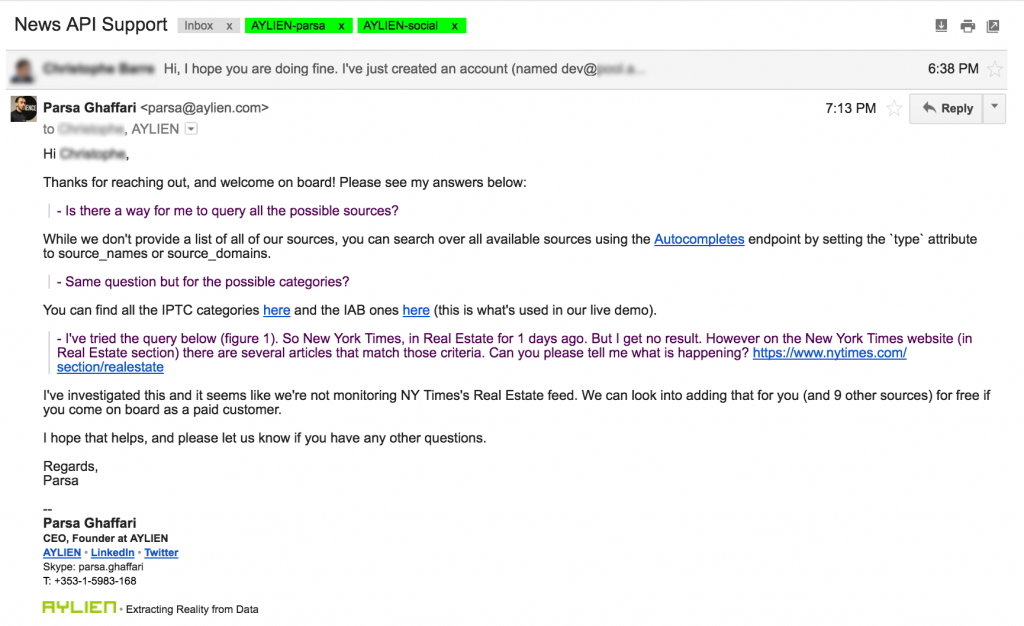 Sample support thread - Yes our founder still handles some support queries
2. Pricing; what's going to happen your monthly cost?
If you do plan on sitting down to figure out how your cost might change after you move to Watson we recommend grabbing a coffee and snack to get you through it. We have created some comparison tables below to provide a quick overview of some of the savings you can make by migrating to AYLIEN over Watson. They are broken down by service and describe what you should expect to pay as an AlchemyLanguage or AlchemyNews user moving to the Watson services vs what you would pay with AYLIEN.
AlchemyLanguage users
Note: Watson NLU and NLC services are charged on a tiered basis based on the number of Natural Language Units you use. Like our pricing it's volume based so we were able to compare some price points based on example volumes.
Pricing example:
| Hits / NLU units | AYLIEN | Watson | Saving |
| --- | --- | --- | --- |
| 180,000 | $199 | $540 | $441 |
| 1,000,000 | $649 | $1,500 | $851 |
| 2,000,000 | $649 | $2,500 | $1,851 |
AlchemyNews users
Pricing Example:
Note: Watson Discovery News and AYLIEN News API are priced a little differently. Our pricing is based on how many stories you collect and analyze but we don't care how many queries you make and Watson Discovery News charges per query made plus enrichments. In Watson Discovery News however there is a limit of 50 results (stories) per query which means it's not too difficult to compare the pricing based on an example number of stories collected.
| Stories | AYLIEN | Watson | Saving |
| --- | --- | --- | --- |
| 100,000 | $211 | $200 | $-11 |
| 1,000,000 | $1,670 | $2,000 | $851 |
| 2,000,000 | $2,871 | $4,000 | $1,129 |
- We're running an Alchemy Amnesty offer -
We know that many of Alchemy's hardcore fans are looking for an alternative that is just as user friendly and powerful, which is why we're running an Alchemy Amnesty: we're giving away 2 months free on any of our plans to any customer moving from AlchemyAPI to AYLIEN. In order to avail of the offer signup here and just drop us an email to sales@aylien.com.

3. Features; what's going and what's staying?
The AlchemyLanguage features are being incorporated into Watson NLU and Watson NLC while the AlchemyNews product is being incorporated into a larger product named Watson Discovery News. As part of the migration however, there are a number of changes to the feature set which we've set out below. We've only listed the features that are either changing or being canned altogether.
AlchemyLanguage
| Feature | Watson NLU | AYLIEN Text API |
| --- | --- | --- |
| Entity & Concept Extraction | X | X |
| Sentiment Analysis | X | X |
| Language Detection | X | X |
| Image Tagging | (separate service) | X |
| Related Phrases | (separate service) | X |
| Summarization | X | X |
| Hashtag Suggestion | | X |
| Article Extraction | | X |
| Semantic Labelling | | X |
| Microformat Extraction | | X |
| Date Extraction | | X |
AlchemyNews
| Feature | Watson Discovery News | AYLIEN News API |
| --- | --- | --- |
| Customized Sources | | X |
| Source Rank | (Blekko) | (Alexa) |
| Industry Taxonomies | 1 | 2 |
| Languages | 1 | 6 |
| Summarization | | X |
| Clustering | | X |
| Social Stats | | X |
| Similar Articles/Stories | | X |
| Deduplication | | X |
Don't just take our word for it, make your own mind up. All the details you need to start testing our service for each of our solutions is listed below. Text API
News API
Final thoughts
Users are moving to AYLIEN for a variety of reasons that we outlined above. The primary drivers are ease of use, flexibility, support, feature set and pricing. If you're dreading making the move to IBM and you miss the experience of dealing with a dev friendly team, we've got you covered 😉.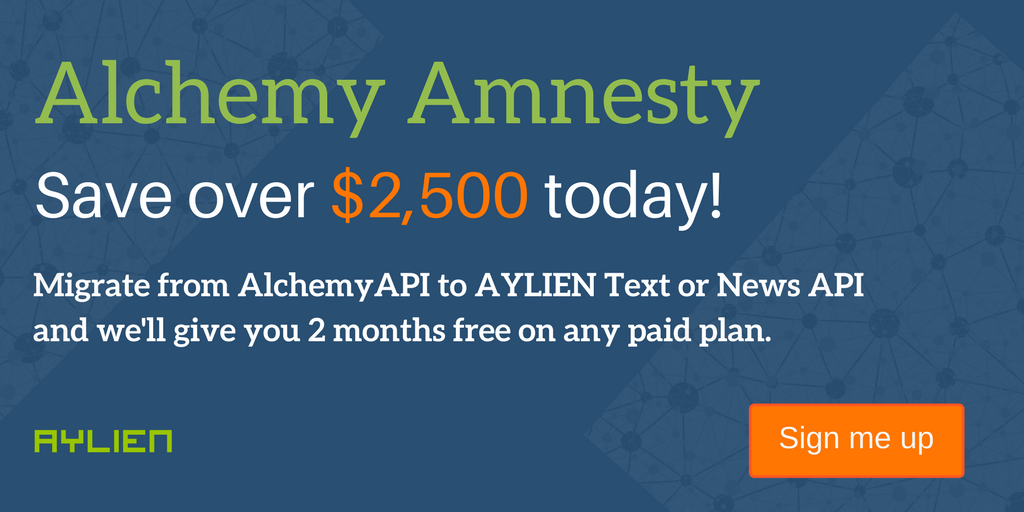 Stay Informed
From time to time, we would like to contact you about our products and services via email.